Current News / Activities
Secretary Karen Ross of CDFA Will be the Guest Speaker at American Pistachio Growers' July Luncheon
Karen Ross, Secretary of the California Department of Food and Agriculture (CDFA), will speak at APG's July Member Luncheon. Governor Edmund G. Brown Jr. appointed Karen to the position on January 12, 2011. Secretary Ross has deep leadership experience in agricultural issues nationally, internationally, and here in California. Prior to joining CDFA, she was the chief of staff for U.S. Agriculture Secretary Tom Vilsack, a position she accepted in 2009. Prior to that appointment, she served as President of the California Association of Winegrape Growers from 1996-2009, and as Vice-President of the Agricultural Council of California from 1989-1996.
---
Brian Watte – Agriculturalist of the Year
By Tricia Stever Blattler, Executive Director
It was a bright sunny morning, with a little nip in the air when I sat down to visit with Farm Bureau's 2018 Agriculturalist of the Year, Brian Watte, back in mid-April. Tiny cotton seedlings were just breaking above the soil line, and green sprouts dotted the soil in every direction as Brian and I sat in his office and talked about farming day's gone by, and looking ahead to the future.
---
California Water Commission Provides Limited Funding for Temperance Flat Dam Project
Meeting in Sacramento, the California Water Commission voted 4-3 Thursday to uphold its staff recommendation: Temperance Flat will have no benefit to environmental habitat, in particular San Joaquin River spring-run Chinook salmon. Although project supporters asked for $1 billion from $2.7 billion in state Proposition 1 funds, staff only recommended funding $171.3 million, citing a low public benefit ratio.
Therefore, project proponents may have to ask the federal government and private investors for more money to fully fund the project. According to Mario Santoyo, the Authority's executive director, they are weighing whether it's worth the cost to continue the application process for Proposition 1 funds.
Steve Worthley, chairman of Tulare County Board of Supervisors and president of the San Joaquin Valley Water Infrastructure Authority said that at the next meeting for the joint powers agreement, officials will discuss moving quickly to approach private investors, such as water agencies, about their interest in the project. Officials will also engage with partners in Washington, D.C. to explore other options.
---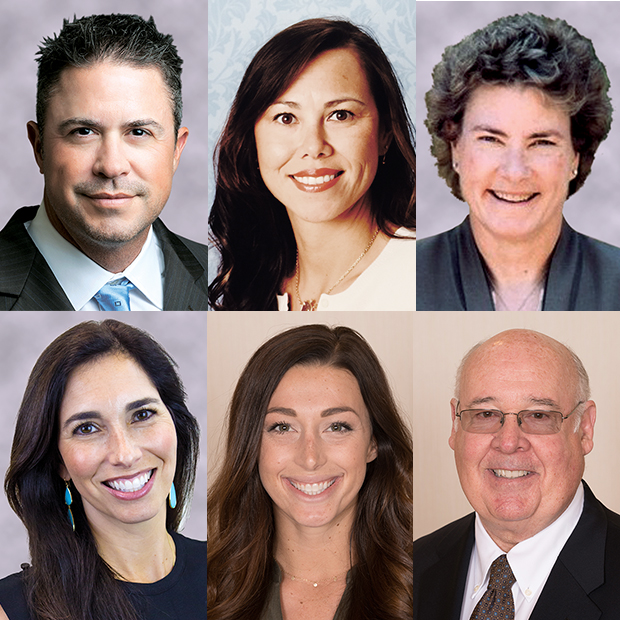 APG Elects 2018 Board
Election ballots for the 2018 APG Board of Directors have been tallied. Re-elected: Rudy Hernandez, Five Star Harvesting; Alison Nagatani, C. Nagatani Farms; and Board Chair, Sharon Roden, Roden Farms. New board members: Mia Cohen, Setton Farms; Gabriella Sandrini (a recent graduate of APG's leadership program, LeadOn), R.B. Sandrini Farms; and Dennis Woods, Woods Family Farms.
---
APG Members Corky and Doug Anderson Named Tulare Farmers of the Year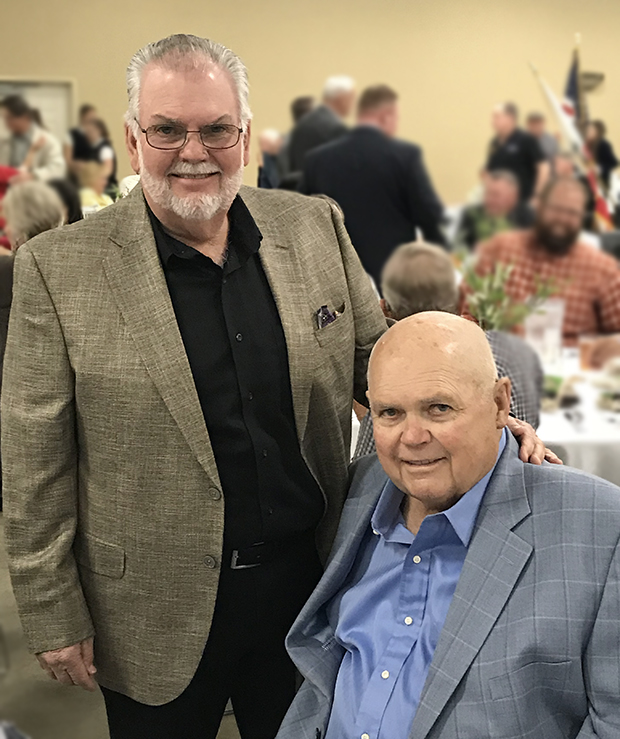 The Kiwanis Club of Tulare presented its 58th Farmer of the Year award to APG members and brothers, Corky and Doug Anderson. Corky and Doug, Tulare's "pioneers of pistachios," are third-generation farmers and were raised near Waukena, outside of Tulare, where their father and grandfather were also farmers.
In 1968, Corky created a partnership with Ken Puryear to form Pioneer Nursery, to sell a pistachio rootstock they developed that was resistant to a devastating fungal disease called Verticillium wilt that was killing pistachio trees. In 1982, they created a new combination of rootstock and named it Pioneer Gold.
From 1984-1989, Corky was the marketing chairman for the California Pistachio Commission. Then he became a member of American Pistachio Growers (formerly known as Western Pistachio Association) in 1989, where he has served in the positions of vice-chair and secretary/treasurer, as well as a member of numerous committees. A tireless advocate for the industry on government relations, tariff and trade, marketing, public relations, board governance and leadership, he has been instrumental in fundraising for the Pistachio Political Action Committee, one of the most successful agricultural PACs.
Doug started farming full time, in 1972, with his father Hank, who at the time had 3,000 acres of row crops in Lost Hills and 640 acres west of Tulare. After Hank Anderson passed, in 1980, Doug took over the full operation, bringing his sister Debi and brother Corky into the picture, in 1997, and formed AMA Pistachio Farming and AMA Properties. He has been involved in APA, PGI, and WPA (APG). In 2008, he, along with other growers, formed the Horizon Co-Op to market their pistachios. Today, the family has more than 400 acres of pistachios in production.
Both Corky and Doug have donated their time and more than $100,000 to local schools and hospitals through the Hank Anderson Memorial Golf Tournament.
---
APG Member Jim Maxwell Receives National Award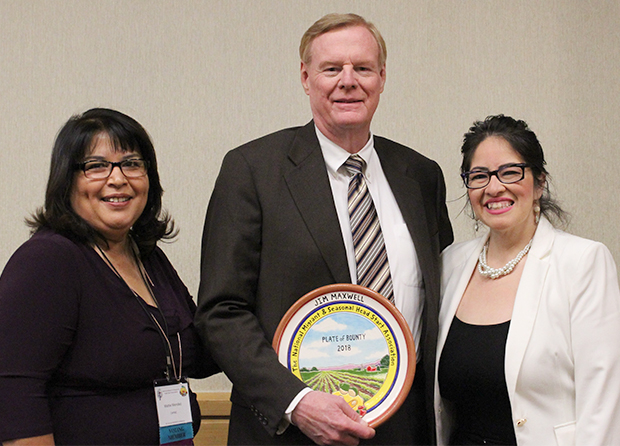 APG member, Jim Maxwell, of Madera, California-based Agriland Farming Company, received recognition by the National Migrant & Seasonal Head Start Program. Nut grower, James Maxwell, earned the Plate of Bounty Award at the Head Start's annual conference, on Sunday, March 4. Nominated by the Community Action Partnership of Madera County (CAPMC) the award recognized the company's CEO, James Maxwell for making a difference in the lives of seasonal farmworkers and their families.
"To be honored for what we consider common practice at Agriland Farming is humbling," said Maxwell. "Giving back and supporting our community while making sure our employees feel like they have a safe, secure and stable workplace, where they are valued and appreciated, has been a foundation for our success."
Agriland is fortunate to have more than 275 dedicated employees. The company believes it is their obligation to ensure more than fair standards for their workers. "Their success is our success" Maxwell said.
CAPMC's director, Mattie Mendez, commented at the award ceremony about how they have had the "chance to personally witness the outstanding work and significant contributions that Agriland provides their employees, especially their migrant and seasonal workers who are many times overlooked by other employers."
The contributions the company makes to their migrant and seasonal workforce highlighted by CAMPC were numerous and includes a scholarship program for employees' children, responsive and affordable healthcare that included a worksite health clinic, and a commitment to giving all employees a safe, secure and desirable workplace.
The company encourages academic excellence for the children of their workforce with their non-competitive College Bound program that provides incentives and scholarships to children of employees. Their goal is to increase the number of employees' children who graduate from high school and then earn a four-year college degree. by awarding an academic performance-based $10,000 college scholarship and a computer. They have also created a partnership with Camarena Health Centers to provide affordable health care for their employees who are likely not covered sufficiently under the Affordable Care Act. In 2014, Agriland further acknowledged the value of their employees by being the first company in the Central Valley to sign an agreement with the U.S. Department of Labor ensuring fair standards for workers. Those standards include a commitment to paying overtime, above minimum wage, a wellness plan, holiday and paid time-off, a 401(k,) retirement program, safe work environment and recourse, if complaints arise.
Maxwell concluded his comments at the award ceremony by encouraging other companies to put employees first, stating that "while we are proud of the bounty we produce in the agricultural industry, our true bounty has been an incredible group of employees who make Agriland a place where we are all proud to work."
The National Migrant & Seasonal Head Start Program works to ensure that quality comprehensive services are available to all eligible farmworker children and their families. In 1999, the MSHS Conference Steering Committee instituted the Plate of Bounty Award to acknowledge individuals nationally who have made significant contributions to migrant and seasonal farmworker families.
James R. Maxwell founded and serves as CEO of various California and Idaho agricultural companies, including Agriland Farming Company, Inc., Agri Systems, Inc., Madera Ag Supply, Inc., Pistachio Harvesting, Inc. and Growers Fig Company, Inc. These companies combine to form a fully integrated, nationally ranked permanent crop operation specializing in almonds, pistachios, grapes, walnuts and citrus. Related operations include an agricultural tree nursery, custom nut harvesting businesses, Idaho field crop farming, wholesaler of Ag hardware, agricultural real estate brokerage, and secured Ag lending. Mr. Maxwell earned his MBA from California State University, Fresno where he also served as part-time faculty in the Sid Craig School of Business. Prior to founding his own companies, he served as COO of a public agricultural company. He has served in various community and industry organizations and has been a volunteer at Valley Children's Hospital for the past nine years.