The Baker's Favorite
Among all the nuts in the baker's toolbox, only pistachios add luscious color. Sprinkled on top of Danish pastry, on a glistening apricot tart, or on honey-drenched baklava, they provide the visual contrast that makes for eye appeal.
Introduction to pistachios in baking applications
In India, the Mediterranean, and the Middle East, pistachios impart an air of luxury and sophistication to baked goods and other desserts. A few examples to inspire your own creativity: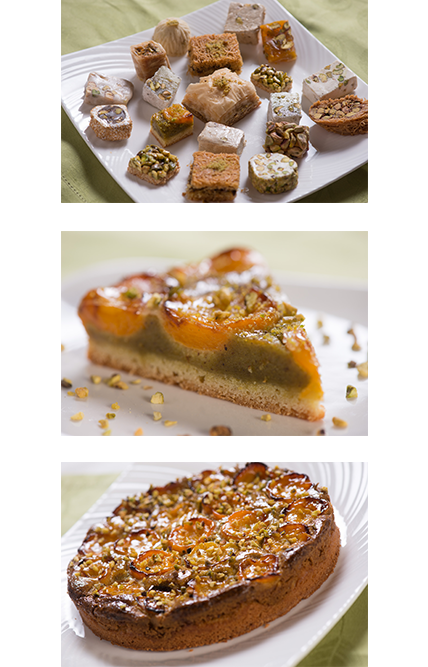 From India:
Rice pudding scented with rose water and garnished with chopped pistachios Naan (yeast-risen flatbread) dough incorporating toasted pistachios and dried cherries, an idea from Indian cooking teacher Julie Sahni
From Turkey:
"Bird's nest" pastry made of filo coiled around chopped pistachios and drizzled with syrup
Kadayif: "shredded wheat" pastry with sugar syrup, orange flower water, cream filling, and chopped pistachios
Ana Sortun's Palace Bread: This Cambridge, Massachusett's, chef's version of kadayif uses baguette chunks simmered in caramel with rose water and garnished with mascarpone and pistachios.
From the Middle East:
Maamoul: semolina cookies with orange blossom water and pistachio filling
In baked goods, flavor complements for pistachios include:
fresh apricots, peaches, nectarines, pears, and figs

dried apricots, figs, prunes, cherries, and dates

"warm" spices such as cinnamon, nutmeg, saffron, clove, and mace

floral scents such as lavender, orange flower water, and rose water

semolina flour
"Pistachios remain green only until you toast them," notes Aaron Brown, chef-instructor at the Culinary Institute of America. A light toasting heightens their flavor, but the nuts will darken with the heat. Folded into quick breads, muffins, cupcakes, or yeast breads, they contribute crunch and buttery flavor but they don't stay green.
To preserve their green color, sprinkle pistachios on baked goods after baking—on top of a cheesecake or pear tart, for example. Or use them in items like shortbread that bake at a relatively low temperature, minimizing the color change.