Pistachio Power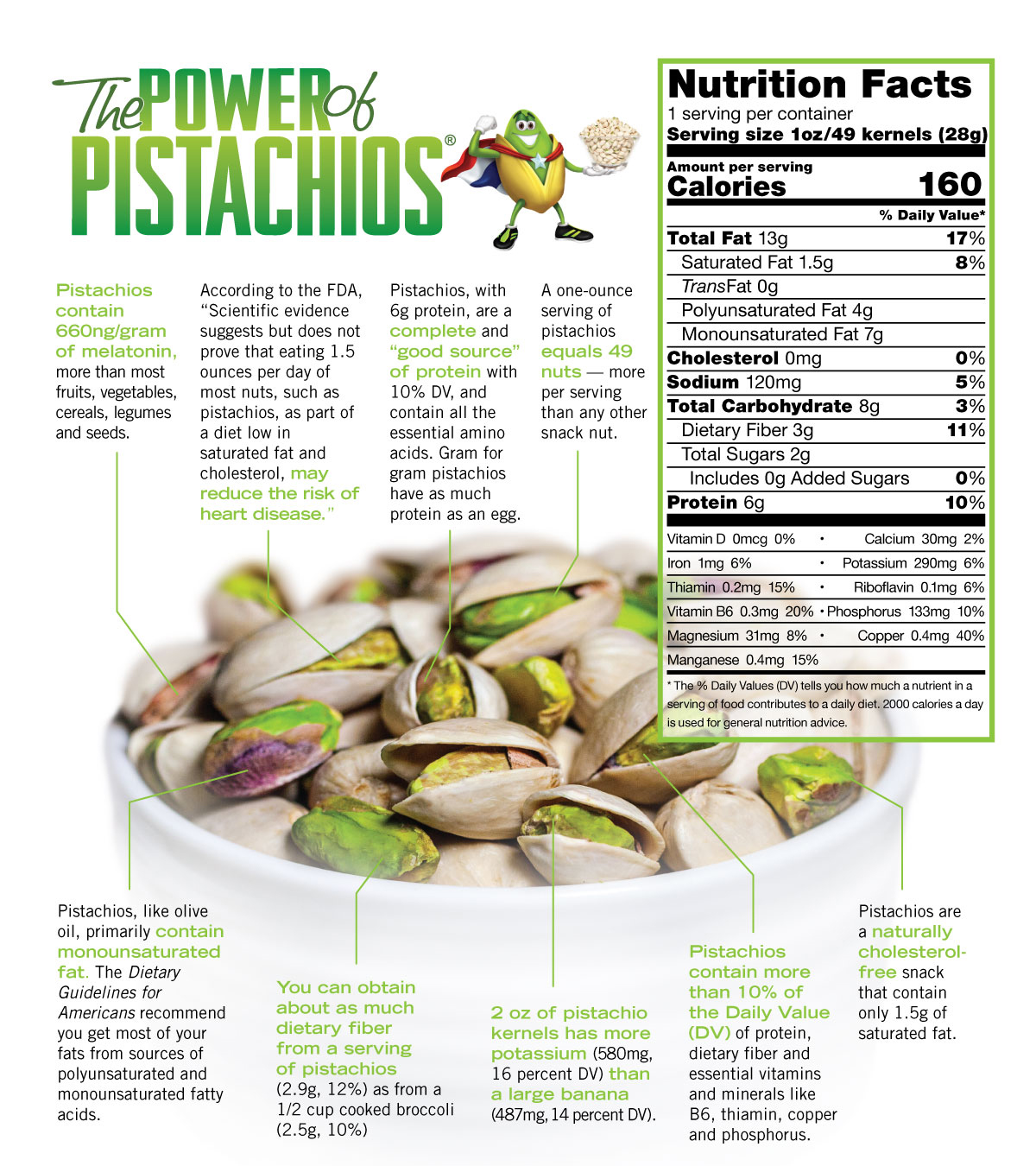 Download the Pistachio Fact Sheet
Good things come in small packages and the nutrition benefits of pistachios are no exception. It's not surprising pistachios have been considered beneficial to health for centuries by societies all over the world.1 Not only are pistachios a source of many essential vitamins and minerals, monounsaturated and polyunsaturated fatty acids, protein and fiber, but pistachios also provide an array of phytochemicals, a wide variety of compounds made by plants that may help to promote health and well-being.1, 2, 3
A one-ounce serving of pistachios equals 49 nuts, which is more nuts per serving than any other snack nut.
Pistachios are a naturally cholesterol-free and sodium-free food that contains 13 grams of fat per serving, the majority of which (11.5 grams) comes from monounsaturated and polyunsaturated fats. Saturated fat contributes only 1.5 grams per serving.
One serving of pistachios has as much potassium (290mg, 8% of the Daily Value) as a half of a large banana (250 mg, 7% of the Daily Value) and 3 grams of filling fiber.
Pistachios contain 660ng/gram of melatonin, more than most fruits, vegetables, cereals, legumes and seeds. Press Release.
Pistachios, with 6g protein, are a complete and "good source" of protein with 10% DV, and contain all the essential amino acids. Gram for gram pistachios have as much protein as an egg.
In a study published November 20, 2013 in the New England Journal of Medicine, researchers looked at the association of eating nuts with total and cause-specific mortality among 76,464 women in the Nurses' Health Study and 42,498 men in the Health Professionals Follow-up Study. Eating nuts, including tree nuts (such as pistachios, almonds, Brazil nuts, cashews, hazelnuts, macadamias, pecans, pine nuts, and walnuts), as part of a healthy diet was associated with decreased risk of death in both men and women, especially due to cancer, heart disease and respiratory disease.4 This is the largest study to date to examine the relation between nut consumption and total mortality.
Bryan Snyder explains the importance of sleep for athletes and how eating pistachios can help them get the rest they need.
---
References:
1. King J, Blumberg J, Ingwersen L, Jenab M, Tucker K. Tree Nuts and Peanuts as Components of a Healthy Diet. J Nutr. 2008.Sept;138(9):1736S-1740S.
2. Tomaino A, Martorana M. Arcoraci T, Monteleone D, Giovinazzo C, Saija A. Antioxidant activity and phenolic profile of pistachio (Pistacia vera L., variety Bronte) seeds and skins. Biochimie. 2010 Sep;92(9): 1115-22.
3. Gentile C, Tesoriere L, Butera D, Fazzari M, Monastero M, Allegra M, Livrea MA.
Antioxidant activity of Sicilian pistachio (Pistacia vera L. var. Bronte) nut extract and its bioactive components. J Agric Food Chem. 2007 Feb 7;55(3):643-8.
4. Bao, Y., J. Han, F.B. Hu, E.L. Giovannucci, M.J. Stampfer, W.C. Willett, C.S. Fuchs, 2013. Association of nut consumption with total and cause-specific mortality. N Engl J Med. 369:2001-2011.