PISTACHIO MANGO CHUTNEY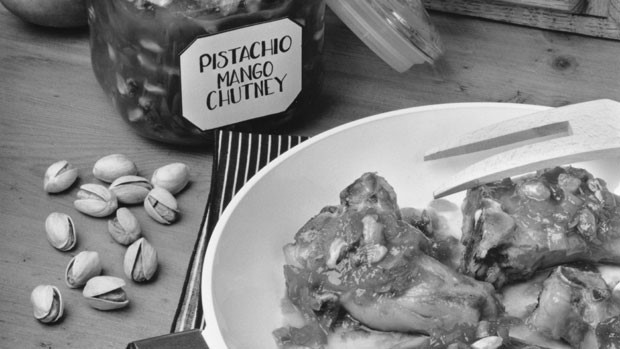 Yield: 4 cups. 
Ingredients
2 large Mangos (or 3 medium), slightly firm
1 large Onion (or 2 medium), chopped
3 Serrano or jalapeno chilies (preferably red), minced
1½ cups Cider vinegar
1½ cups Brown sugar
1 cup Natural American pistachios
Instructions
Cut mangos in half.  Peel and slice flesh from around seed.  Chop ½-inch pieces.  Combine with remaining chutney ingredients in large saucepan.  Bring mixture to boil; reduce heat and simmer uncovered about 1 hour until the consistency of jam.  Stir occasionally.  Test for thickness by placing a spoonful into freezer for 30 seconds to chill it.  Continue cooking if too thin.  Stir in pistachios; cool and store in covered jar in refrigerator.