Pistachio Turmeric Rice Power Bowl
By Sharon Palmer, RDN, The Plant-Powered Dietitian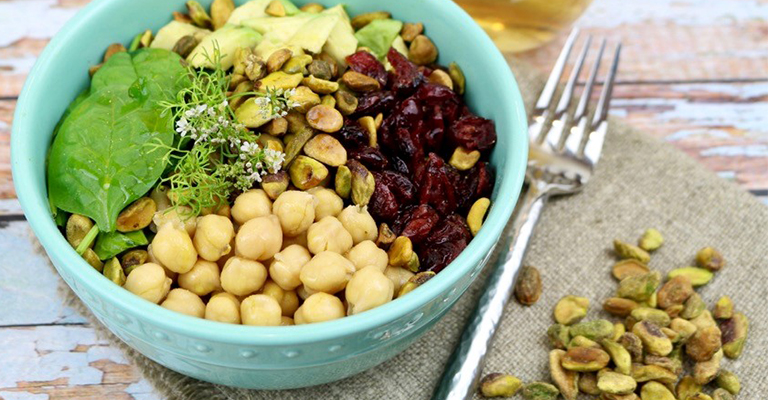 What's not to like about this exotic, golden yellow rice bowl, packed with powerful flavors and nutrients, compliments of pistachios, chickpeas, spinach, avocado, and cranberries? Just cook up the flavorful rice, and add the toppings right before eating it. You can also meal prep this recipe and create ready to go meals for lunch or dinner. 
Ingredients
Turmeric Rice:
1 tablespoon extra virgin olive oil
1 cup brown rice, uncooked
1 tablespoon grated fresh ginger
2 cloves garlic, minced
2 teaspoons turmeric
½ teaspoon freshly ground black pepper
2 cups water
1 cube vegetable bullion
1 teaspoon agave syrup
½ lemon, juiced
Toppings:
1 cup canned chickpeas, rinsed, drained
1 cup pistachios, shelled
½ cup dried cranberries
1 avocado, sliced
1 cup fresh spinach
Extra virgin olive oil (if desired)
Instructions
To Prepare Turmeric Rice:  Heat olive oil in a medium pot.  Add rice, ginger, garlic, turmeric, and black pepper and sauté for 2 minutes. Add water, vegetable bullion, and agave syrup. Stir well, cover, and cook over medium heat—stirring occasionally to prevent from sticking—for about 40 minutes, until just tender, but not mushy. Stir in lemon juice and remove from heat.
To Prepare Bowls: Divide turmeric rice into bowls (2 for large servings, or 4 for small servings). Divide the toppings among the servings (2 or 4) and arrange on top of the rice: chickpeas, pistachios, dried cranberries, avocado slices, and spinach. Top with a drizzle of extra virgin olive oil if desired.
Makes 2 large entrée servings or 4 small side-dish servings
Nutrition information per Serving (1/4 recipe): 442 calories, 24 g total fat, 3 g saturated fat, 0 mg cholesterol, 26 mg sodium, 49 g carbohydrate, 11 g fiber, 14 g sugar, 13 g protein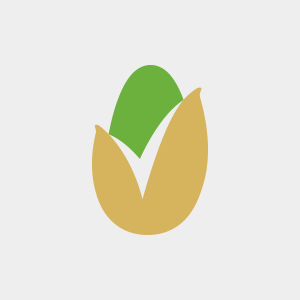 American Pistachio Growers (APG) is a non-profit trade association representing over 800 grower members in California, Arizona, and New Mexico.