Sea Scallop – Pistachio Crust with Wild Mushroom - Red Wine Fumet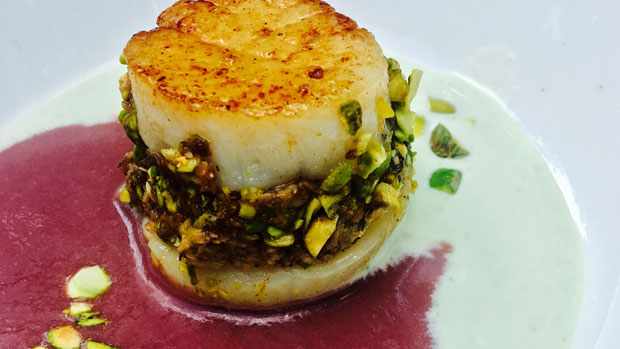 Yield
4 servings
Ingredients
4 Sea scallops large enough to cut in half
Salt and pepper, as needed
2 ounces Butter
2 ounces Oil
1 pint Wild mushrooms, cleaned
2 Shallots, thinly cut
1 ounce Heavy cream
1 tablespoon Parsley washed and chopped finely
Sauce
2 ounce Noilly Prat (dry vermouth)
2 tablespoons Scallop debris
1 clove Garlic, finely chopped
1 Shallot, thinly sliced½ cup Red wine
1/3 cup Pistachios, shelled and skinned
Instructions
Clean the scallops of remaining shells or trims. Cut the scallops in half sideways. Season with and salt and pepper.
In a sauté pan, add half of the butter and half of the oil. Slice the mushrooms roughly. Add the mushrooms in the pan, season them with salt and pepper and cook on medium heat until slightly browned; add shallots and cook for 5 more minutes; add cream. When the cream is totally incorporated, remove the mushrooms from the pan, process them with the parsley in a food processor (pulse only 5-6 times), to create a duxelles. Let cool.
In a medium saucepan, pour the Noilly, add the scallop trims and debris with the garlic and shallots; let simmer until the Noilly is almost gone. Then add the red wine and reduce gently to ¼ cup.
Crush the pistachios with a chef's knife into tiny chunks, stuff each scallop with mushroom duxelles, roll the scallop sideways into the pistachios (only the part where the mushrooms are showing will retain the pistachio pieces). In your hand, form a perfect scallop cylinder. Repeat 4 times.
In a sauté pan on medium heat add the remaining oil and the butter, hot but not brown, season and add the scallops. Let them sear gently and when browned, tilt them on their side and crust them carefully all around. By this time, they should be cooked. Place them on a plate.
Finish the sauce by straining the wine "fumet" into the scallop pan, when hot enough, incorporate the butter and any liquids from the bottom of the plate where the scallops sat. 
Place the scallop on the plate, and a bit of the red wine sauce. Add additional crushed pistachios on the sauce.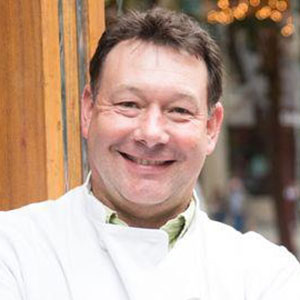 Chef-Owner, Caribou Café and ZINC Bistro
Member – Maître Cuisinier de France (Master Chef of France)