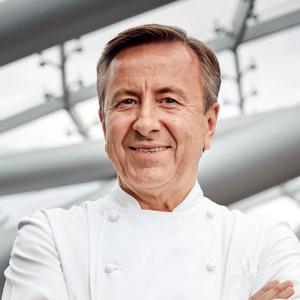 Chef/Owner of Daniel, New York
Owner of The Dinex Group comprised of 15 restaurants
Member – Maître Cuisinier de France (Master Chef of France)
Recipient of Chevalier du Merite Agricole (Knight of the Order of Agricultural Merit)
Raised on his family's farm near Lyon, France, Daniel Boulud grew up surrounded by the rhythms of the seasons, the wonders of produce fresh from the fields, and of course, his grandmother's inspiring home- cooking. Boulud spent his formative years training with several renowned chefs, including Roger Vergé, Georges Blanc, and Michel Guérard. Eventually, he took a position in the U.S. as chef to The European Commission in Washington, DC, and later opened the Polo Lounge at The Westbury Hotel and then the Le Régence at the Hotel Plaza Athenée in New York City. 
Boulud made his reputation in New York, first as a chef and most recently a restaurateur. His culinary accolades include James Beard Foundation awards for "Outstanding Restaurateur," "Best Chef of New York City" and "Outstanding Chef of the Year." His first restaurant, Daniel, was named "one of the ten best restaurants in the world," by the International Herald Tribune, recipient of Gourmet Magazine's"Top Table award, and the coveted four-star rating from the New York Times as well as Wine Spectator's "Grand Award." 
His management company, The Dinex Group, currently includes fifteen restaurants and three locations of a gourmet grocery (Epicerie Boulud) and Feast & Fêtes Catering. His restaurants include Daniel, Café Boulud, db Bistro Moderne, Bar Boulud, DBGB Kitchen & Bar, and Boulud Sud.
Boulud, well known for his profound effect on and dedication to New York City's culinary community serves on the StarChefs.com Advisory Board. Additionally, Chef Boulud has authored six books and created three seasons of the After-Hours with Daniel television series.