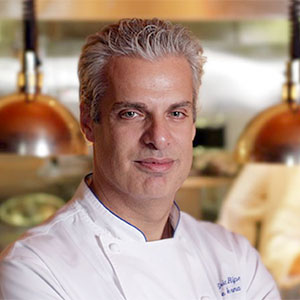 Chef/Co-Owner Restaurant Le Bernardin, New York
Recipient of Legion d'Honneur, France's Highest Honor
Member – Maître Cuisinier de France (Master Chef of France)
Eric Ripert enjoyed his early exposure to two cuisines—that of Antibes, France, where he was born, and to Andorra, a small country just over the Spanish border, where he moved as a young child.  His family instilled their own passion for food in the young Ripert, and at the age of 15 he left home to attend culinary school in Perpignan.  
At 17, he moved to Paris and cooked at the legendary La Tour D'Argent before taking a position at the Three-Star Michelin Jamin.  In 1989, after fulfilling his military service, he moved to Washington, D.C., to work at the Watergate Hotel. In 1991, Eric moved to New York, after Maguy and Gilbert Le Coze recruited him as chef for Le Bernardin.
In 1994, Ripert became Le Bernardin's executive chef after Gilbert Le Coze died unexpectedly. The following year, at the age of 29, Ripert earned a four-star rating from the New York Times, and in 1996 he became a part-owner. In the Michelin Guide NYC 2006, Ripert's Le Bernardin was one of four New York City restaurants to be awarded the maximum three Michelin stars for excellence in cuisine. Le Bernardin received four stars from the New York Times four consecutive times, making it the only restaurant to maintain that exquisite status for that length of time and never dropping a star in ten years.
In September 2009, AVEC ERIC, Ripert's first TV show, debuted on PBS stations and ran for two successful seasons, earning two Daytime Emmy Awards: "Outstanding Culinary Program" (2011) and "Outstanding Achievement in Main Title and Graphic Design" (2010).