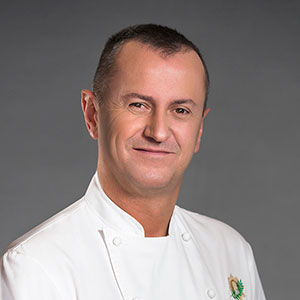 Executive Chef, The Venetian and Palazzo Resort and Casino, Las Vegas
Member – Maître Cuisinier de France (Master Chef of France)
Olivier Dubreuil, born in Rochefort, France, discovered his enthusiasm for the cuisine and culture of his country at a young age. His grandmother's garden was his market, and creating family meals from the quality and freshness found there became his tradition. 
His studies at the cooking school in Arcachon, France, not only honed his skills but also gave him the inspiration to expand his culinary education with some of France's finest regional chefs. After graduating with honors in 1985, his native France became his training ground. From there he began his career with Club Mediteranee, a worldwide resort company. His association with Club Med took him to Italy, French Polynesia, Mexico, the Caribbean, Switzerland, Ireland and the United States, where he eventually moved to Las Vegas, Nevada.
In 1999, Olivier became Executive Chef for the Paris Las Vegas Hotel and Casino, with responsibilities for all culinary aspects of the hotel's many restaurants and banquet facilities. Six years later, he accepted the offer of Executive Chef at Bally's Hotel and Casino, the sister hotel to the Paris, Las Vegas Hotel. Then, in 2005, he was handpicked to lead a new team and began work for the Venetian and Palazzo Resort and Casino. 
In March of 2009, Olivier became a member of the prestigious organization of Maitres Cuisiniers de France.