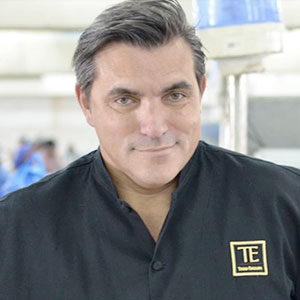 Todd English attended the Culinary Institute of America and graduated in 1982 with honors. He continued to hone his craft with Jean Jacques Rachou at New York's La Cote Basque, and then relocated to Italy where he apprenticed at the well-established Dal Pescatore in Cannetosull'Oglio and Paracucchi in Locandadell'Angelo.
In 1989, Todd opened his first restaurant, Olives, in Charlestown, Massachusetts. Todd's interpretive Mediterranean cuisine was voted "Best New Restaurant" by Boston Magazine and "#1 Favorite Restaurant" by Zagat. English has established Olives in locations such as The Bellagio Hotel in Las Vegas, Atlantis in the Bahamas, Santa Fe section of Mexico City and The Venetian Village at the The Ritz Carlton in Abu Dhabi. Todd English received recognitions by several food industry publications, established one of the nation's best-known restaurant brands, and published four critically acclaimed cookbooks.
In 1991, the James Beard Foundation named him their "National Rising Star Chef, " and "Best Chef of the Northeast"(1994). Nation's Restaurant News proclaimed Todd as one of their "Top 50 Tastemakers" (1999)
Todd's high-profile entertainment events include: Executive Celebrity Chef, MTV's Video Music Awards; hosted events for the Super Bowl, Sundance Film Festival, Fashion Week, Tony Awards, NASCAR, and Dinner in White.