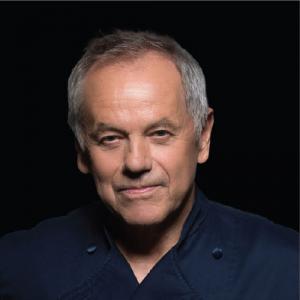 The name Wolfgang Puck is synonymous with the best of restaurant hospitality and the ultimate in all aspects of the culinary arts. The famed chef has built a brand that encompasses three companies: Wolfgang Puck Fine Dining Group, Wolfgang Puck Catering, and Wolfgang Puck Worldwide, Inc.
Puck was born in Austria and began cooking alongside his mother at a very young age. A chef herself, she encouraged Wolfgang and inspired his passion for food. So driven and inquisitive to learn, he started his formal training when he was just fourteen years old. As a young chef he worked in some of France's greatest restaurants, including Maxim's in Paris, the Hotel de Paris in Monaco, and the Michelin 2-starred L'Oustau de Baumanière in Provence. At the age of 24, Wolfgang left Europe for the United States. His first job was at the restaurant La Tour in Indianapolis, where he worked from 1973 to 1975. In 1975, Wolfgang came to Los Angeles and very quickly garnered the attention of the Hollywood elite as chef of Ma Maison in West Hollywood. After leaving Ma Maison, in 1982 Wolfgang opened his first flagship restaurant, Spago. Located in West Hollywood on the Sunset Strip, Spago was an instant success and culinary phenomenon. His early signature dishes put him and Spago on the international gourmet map.  Wolfgang and Spago earned many accolades, including winning the prestigious James Beard Foundation Award for Outstanding Chef of the Year in 1991 and 1998, and the James Beard Foundation Award for Restaurant of the Year in 1994. Wolfgang is the only chef to have won the Outstanding Chef of the Year Award multiple times.
After 15 years in West Hollywood, in 1997 Wolfgang moved Spago to an elegant setting on Canon Drive in Beverly Hills. Spago Beverly Hills garnered two coveted Michelin Stars, one of only three Los Angeles restaurants to achieve this accolade.