Fried Gobi with California Pistachios
Ingredients
"Chaat" is super common on lots of great snacks in India and it simply means to "lick" in Hindi. You'll be licking and kissing your yummy fingers when you finish a bowl of these too.
Chaat Masala
2 tablespoons + 2 teaspoons (20g) Cumin seed
1 tablespoon (5g) Coriander seed
1 tablespoon (8g) Fennel seeds
2 tablespoons (4g) Dried mint
1 tablespoon (4g) Chili flakes
1 teaspoon (4g) Black pepper
1/3 cup (40g) Green mango powder
1 tablespoon (5g) Ginger powder
¼ cup (30g) Kosher salt
Cauliflower
Oil for deep frying
1 pound (500g) Cauliflower
½ cup (50g) American Pistachios
2 large (200g) Shallots
½ cup (25g) Golden raisins
1 (10g) Green chili
1 tablespoon (10g) Salt
2-1/2 tablespoon (20g) Chaat spice
Juice of one lime (40g)
Yogurt - as desired for garnish
Instructions
For the Chaat Marsala Spice
Toast all Chaat Marsala spices in a dry pan, taking care to not burn.
Blend all to a fine powder in a spice grinder. 
Keep in airtight jar.
For the Cauliflower
In a deep pot bring at least 1quart. (2 quart. is ideal) oil to 375 degrees F (190 degrees C).
Prepare cauliflower by breaking into florets, keep the greens as well. 
Using the side of knife or pot, smash pistachios into halves. 
Slice shallots thin and add to oil to fry until golden, then remove and place on a paper towel. 
Add cauliflower to oil and fry for about 5 minutes or until golden brown, add to onions on paper towels. 
In a bowl, toss all ingredients except lime with chaat spice, raisins, and pistachios. 
Add lime juice and toss some more. 
Serve over yogurt.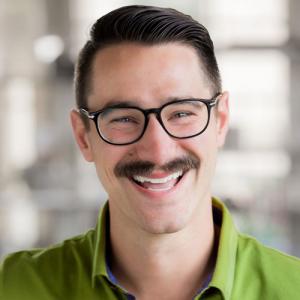 Grant Crilly is a classically trained chef and the cofounder of ChefSteps, the James Beard and Dieline award–winning smart-product company behind Joule Sous Vide—the smallest, most powerful sous vide tool on the planet.