Chutney Paneer with California Pistachios
Ingredients
American Pistachio Cilantro Chutney
1 bunch (100g) Cilantro; divided
½ cup (60g) American Pistachios 
1 Small green chili (9g)
3 tablespoons (3g) Jaggaryor brown sugar 
2 tablespoons (20g) Lemon juice 
1 teaspoon (4.5g) Salt
1 inch piece (20g) Fresh ginger  
2 to 3 (10g) Fresh garlic cloves 
1 small (3g) Green Chili 
Salt to taste
1 large (125g) Shallot  
3 tablespoon (30g) Oil 
1/3 pound (175g) Paneer, cubed  
(75g)  American Pistachio Cilantro Chutney
½ cup (75g) American pistachios.
Water (as needed) to adjust the texture
Instructions
For the Chutney
Wash cilantro in ice cold water.
Slice from stem side towards leaves finely, reserving top ¼ of the bunch for garnish. 
Blend cilantro, pistachios, chili, sugar, lemon juice and salt to a coarse paste in the food processor.
Cover tightly and refrigerate immediately to preserve bright green color. 
To plate 
Blitz ginger, garlic, chili, and salt in a food processor until coarse paste; reserve.
Slice shallot; cook in oil until golden brown. 
Add cubes panner and sear to light golden. 
Add reserved chili paste. 
Add American Pistachio cilantro chutney.
Add reserved cilantro
Add water and stir to smooth out the sauce.
Garnish with additional cilantro and more American Pistachios.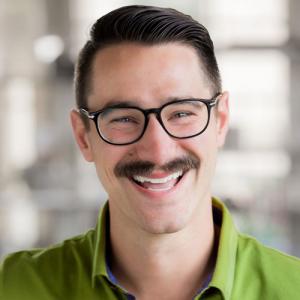 Grant Crilly is a classically trained chef and the cofounder of ChefSteps, the James Beard and Dieline award–winning smart-product company behind Joule Sous Vide—the smallest, most powerful sous vide tool on the planet.