Gluten Free No Bake Pistachio Chocolate Truffle Cake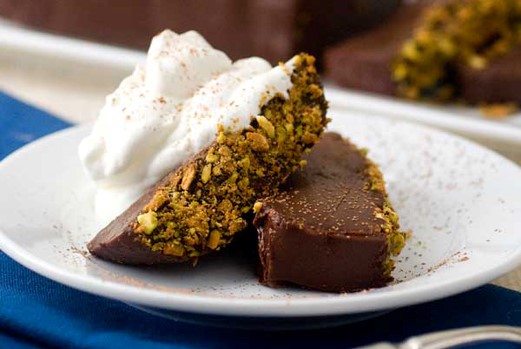 Yield: serves 10 -12 people.
Ingredients
Gluten free, non-stick cooking spray or melted butter
12 ounces dark chocolate (semi, bittersweet, or dairy free) or good quality chocolate chips
8 ounces heavy cream or full fat coconut milk (shake can well before measuring)
3 tablespoons gluten free coffee flavored liqueur (such as Kahlua)
1 teaspoon pure vanilla extract
⅓ cup roasted, salted and shelled pistachios, coarsely chopped
Instructions
Spray an 8 by 4 inch loaf pan with cooking spray or brush with butter. Line the pan with a piece of parchment paper (important if you want to be able to remove the cake from the pan.)
Chop the chocolate evenly into small pieces. Alternatively, you can use good quality chocolate chips that contain no wax fillers. Place the chocolate in a mixing bowl.
Bring the cream and liqueur (if using) just to a boil over medium-high heat. Stir the vanilla into the hot cream and pour the chocolate and let sit for 5 minutes. Stir until the chocolate and cream are fully combined and the mixture is smooth and glossy. Pour into the prepared pan, smooth out the top and sprinkle with the chopped nuts if using. Cover with a piece of plastic wrap and refrigerate 4 hours or until firm.
Using the parchment to help you, remove the cake from the pan and slice with a thin, hot knife (run the knife under hot water then dry with a towel).