Nancy's "Falafel" Pistachios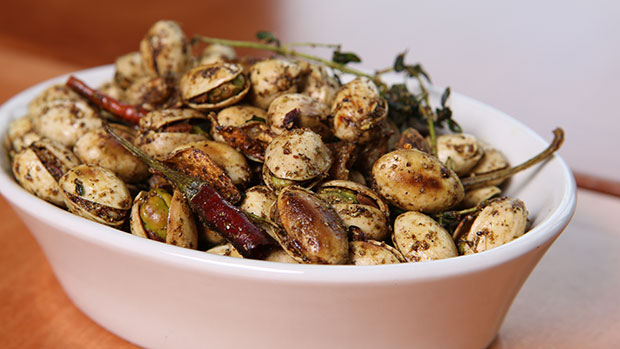 Ingredients
Roasted pistachios
1 quart shelled pistachios
1 ounce canola oil
2 oz "falafel" spice
6 pods of chile de arbol
1 teaspoon of salt
2 cups raw garlic (yields 4 ounces of garlic chips)
2 cups olive oil
"Falafel" spice
1 ounce of ground basil
1 ounce of ground marjoram
1 ounce of cumin
1 ounce of coriander
1 ounce of ground rosemary
½ ounce of turmeric
Instructions
To toast the nuts
Preheat the oven to 325 degrees. Spread the pistachios on a baking sheet and toast them in the oven for about 10-15 minutes, until they're lightly browned.
Garlic chips
Take peeled garlic cloves and slice on a mandolin, to paper-thin consistency. Pour olive oil into a sauté pan and heat on medium. Add garlic slices to the pan and cook until golden brown and crispy. Remove garlic with a slotted spoon and transfer to a paper towel to drain.
In a 12 inch sauté pan, heat canola oil over medium heat and add chile de arbol to lightly toast. Add roasted pistachios (keep in shell), and sauté for 1-2 minutes. Sprinkle in 2 ounces of falafel spice and salt, tossing pistachios in pan until complete coated, approximately 3-4 minutes. Remove from heat and toss with garlic chips. Serve warm or room temperature.