Peach and White Chocolate Cheesecake with Pistachio Crust
By Harris Ranch Resort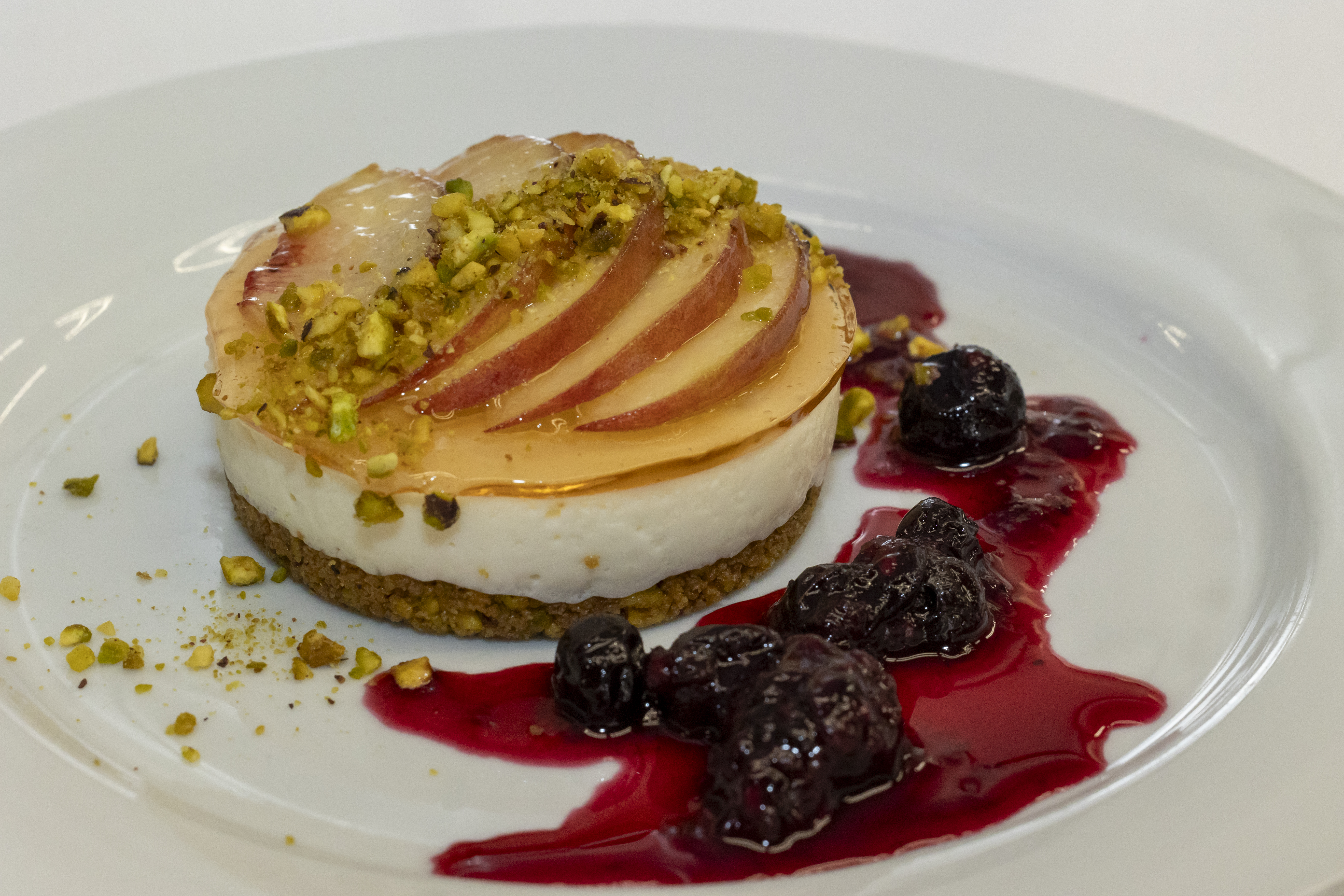 Yield
6 servings
Ingredients
Pistachio Crust
4 oz Pistachios, ground
3 oz Graham Crackers, ground
2 tbsp Butter, melted
Cheesecake
2 oz Chocolate Chips, white
6 oz Cream Cheese, softened
3 oz Powdered Sugar, sifted
1/4  tsp Vanilla Extract
1/4 tsp Lemon Juice
1/8 tsp Salt
1/4 cup Heavy Cream
1 1/2 each Gelatin, sheets, bloomed
1 each Peach, fresh, sliced
Gelee
1/4 cup Monin Premium Peach Syrup
1/2 cup Water
4 oz Sugar, granulated
3 each Gelatin, sheets
Instructions
Pistachio Crust
Ground the pistachio and graham cracker in a food processor. Place mixture in a bowl and add in melted butter. Combine well and divide the crust evenly into six 3 ½ -inch (9cm) silicone molds. Bake at 350°F (175°C) for 10 minutes. Set aside to cool.
Cheesecake
In the bowl of a stand mixer fitted with the paddle attachment or with a handheld electric mixer, beat the cream cheese, powdered sugar, vanilla extract, lemon juice, and salt for 8- 10 minutes until light, fluffy, and no lumps are visible. 
Melt white chocolate over a double boiler or in a microwave. Add to the cheesecake mixture and combine until well blended. 
Over medium heat warm heavy cream, remove from heat, and dissolve bloomed gelatin into liquid. Add mixture into cheesecake and combine until well incorporated.
Pour the filling into the prepared crusts and spread to the edges of the silicone mold. Place in refrigerator for at least one hour. 
Gelee
Combine the Monin Premium Peach Syrup, water, sugar, and heat over medium heat. Remove from heat and add bloomed gelatin sheets. Combine until gelatin is completely dissolved. Pour gelee evenly into cheesecakes and return into the refrigerator for at least two hours. 
Assembly
Remove cheesecakes from molds and plate as desired. 
Special equipment needed:
3 ½ -inch (9cm) silicone molds
Pro Tip:
1 ½ gelatin sheets equal 1 1/8 teaspoon of powdered gelatin.
3 gelatin sheets equal 2 ¼ teaspoons of powdered gelatin.
When using powdered gelatin, follow the manufacturer's instructions. 
How to bloom gelatin sheets? Place the gelatin sheets in a bowl of cold water and allow it to sit for 5-10 minutes. Remove the gelatin sheets from the bowl of cold water. Wring the gelatin sheets gently, being careful not to rip them. Add to the warm base.
Peach Monin Premium Syrup is the perfect ingredient for many desserts and beyond and is commercially available. It may be replaced with your favorite fruit syrup.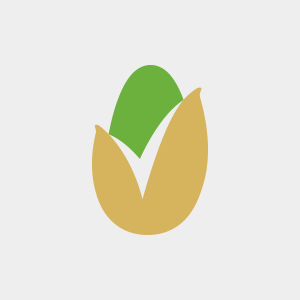 American Pistachio Growers (APG) is a non-profit trade association representing over 800 grower members in California, Arizona, and New Mexico.