Pistachio & Milk Bread
Yield
40 breads @ 480 g (17 oz.) each
Ingredients
| | | | | | |
| --- | --- | --- | --- | --- | --- |
| Dough | g/ml | lbs./oz | Baker's % | Yield % | Notes |
| Flour, bread | 5000 | 11 lbs | 50.00% | 23.15% |   |
| Flour, pastry | 5000 | 11 lbs | 50.00% | 23.15% |   |
| Shortening | 1200 | 2 lbs 10 oz | 12.00% | 5.56% |   |
| Sugar, granulated | 1000 | 2 lbs 3 oz | 10.00% | 4.63% |   |
| Yeast, compressed | 600 | 1 lb 5 oz | 6.00% | 2.78% |   |
| Dough conditioner | 150 | 5 oz | 1.50% | 0.69% |   |
| Salt, table | 150 | 5 oz | 1.50% | 0.69% |   |
| Egg, whole | 1000 | 2 lbs 4 oz | 10.00% | 4.63% |   |
| American Pistachios | 2000 | 4 lbs 7 oz | 20% | 9.26% | roasted, chopped |
| Milk, whole | 5500 ml | 12 lbs 8 ox | 55.00% | 25.46% |   |
| Total | 21600 g | 48 lbs 1 oz | 216.00% | 100.00% |   |
Instructions
Combine all ingredients, except the American Pistachios in a mixing bowl. With dough hook mix on first gear for three minutes (pick-up stage). Stop the mixer and put gearshift into neutral. Scrape down the side of the bowl and check the dough consistency. Restart in third gear for seven more minutes. Add the American Pistachios and mix on slow until well incorporated. Lightly dust the surface of a workbench and place the dough onto the surface. Cover to prevent the dough from drying out. Bench rest for 15 minutes. Divide into. 80 g (2.85 oz) pieces and round, lining the dough pieces up uniformly. Cover. After 5 minutes bench rest, shape into ovals. Place six pieces together. Use a sheet pan, which have been lined with parchment paper. Glace with egg wash and score. Top with flaked almonds or rock sugar. Proof until doubled in size. Bake at 190°C (375° F) for 8-10 minutes or until done.
Notes:
This bread can be made into individual buns, by placing them separately on a sheet pan. (3x4)
The standard of identity for milk bread/rolls requires that all liquids must either be added as whole milk, or it must contain an equivalent amount of nonfat dry milk plus water and milk fat. 8.2 kg (8.2 lbs) dry whole milk per 100 kg (100 lbs) of flour as per Food and Drug Administration- FDA guidelines.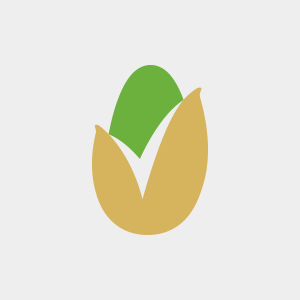 American Pistachio Growers (APG) is a non-profit trade association representing over 800 grower members in California, Arizona, and New Mexico.