Pistachio Yogurt Panna Cotta with Watsonville Strawberries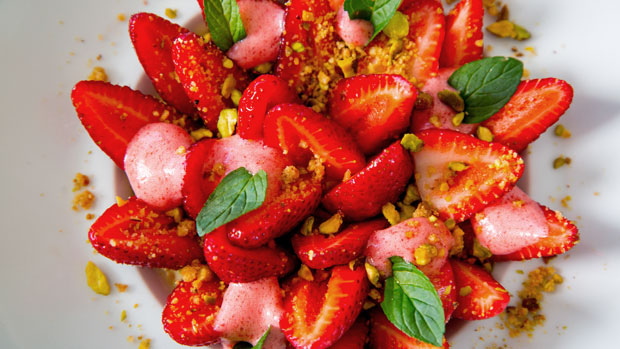 Yield
6 servings
Ingredients
Panna Cotta
2 cups Saint Benoit yogurt or plain organic yogurt
1½ sheets Bronze gelatin
2 tablespoons Pistachio oil or ¼ cup Pistachio paste
¾ cup Cream
1/3 cup Sugar
2 baskets Strawberries  
1 tablespoon Sugar
Fresh ground black pepper to taste
1 Lemon, zested 
Pistachio Streusel
½ cup Butter
½ cup Confectioner's sugar
½ cup Chopped pistachios
½ cup Flour
Strawberry Foam
1-½ cup Puree or liquid – Strawberry
¾ teaspoon Xanthan Gum 
1-½ Versawhip (gelatin)
¼ cup Sugar
Instructions
For the Panna Cotta
Place the yogurt in a medium-sized bowl. Place the bronze gelatin into ice water to make it bloom. Combine pistachio paste, cream, and sugar, in a pot and bring to a simmer, mixing well. Add bloomed gelatin.
Strain the combined ingredients (fine strainer or chinois) then add to the yogurt. Whisk together until thoroughly blended. Pour the panna cotta into 4 soup bowls. 
Set in the refrigerator for at least 4 hours, and up to 24 hours. 
In a separate bowl, season the strawberries with sugar, fresh ground black pepper and lemon zest to taste. Once the panna cotta is set, top with seasoned strawberries. 
For the Pistachio Streusel
Combine the ingredients, in an electric mixer, using bowl and paddle. Freeze on 5x5x5 sheet tray.  Bake at 375 degrees F for 15 minutes. Sprinkle on top of strawberries.
For the Strawberry Foam
Chill Puree or liquid; add the rest of the ingredients and whip until you get 5 times the volume.  Spoon four dollops of the strawberry form on top of the streusel.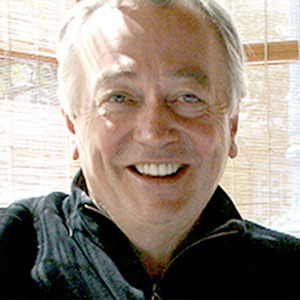 Chef/Owner La Folie and Left Bank Brasserie, San Francisco and LB Steak in San Jose, California
Recipient of Chevalier du Merite Agricole(Knight of the Order of Agricultural Merit)
Member - Maître Cuisinier de France (Master Chef of France)