Stone Fruit and Berry Trifle with Pistachios
By Harris Ranch Resort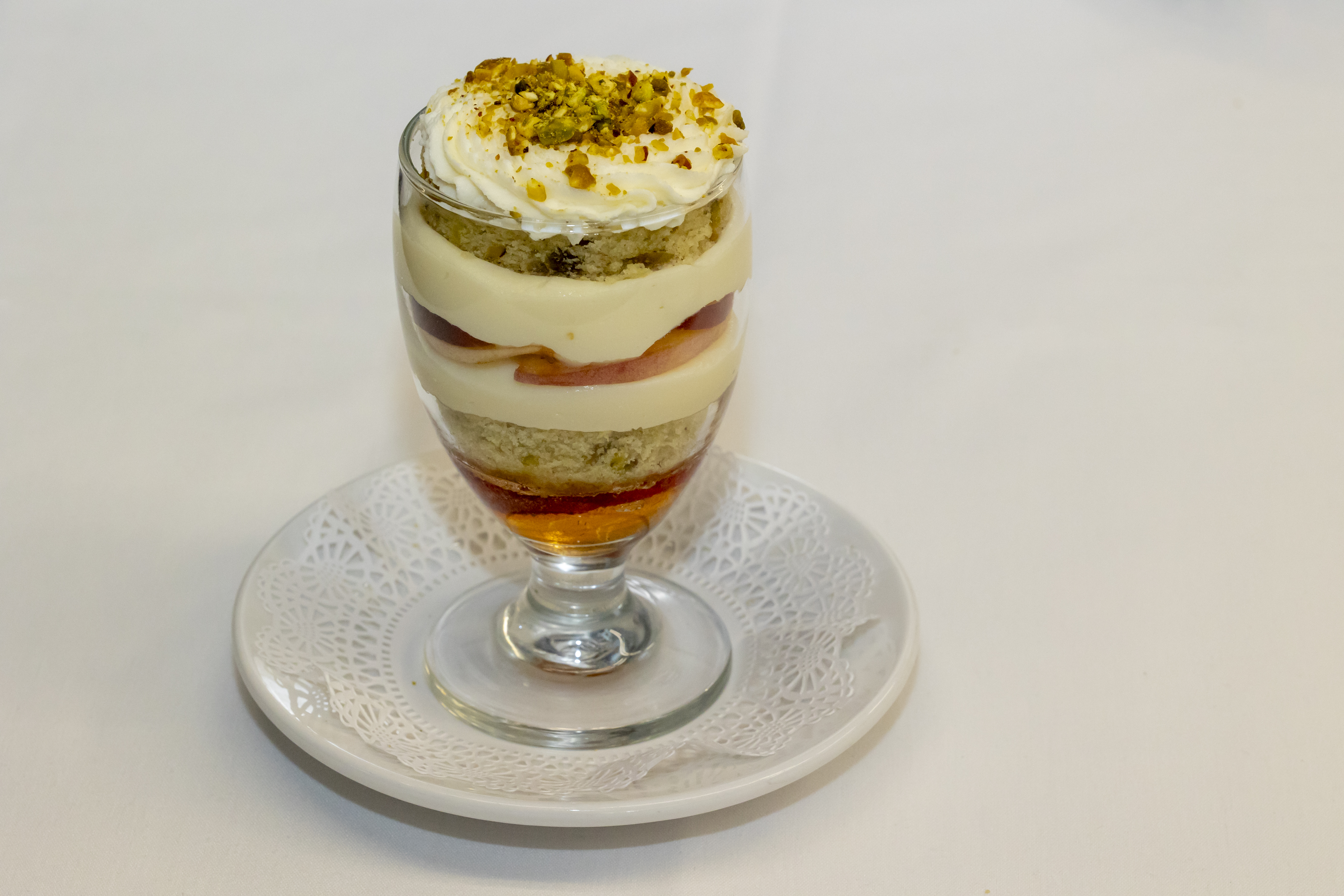 Yield
6 servings
Ingredients
Pistachio Sponge Cake
8 oz Butter, unsalted, softened
2 cups Sugar, granulated
3 cups Flour, all-purpose
1 tsp Baking powder
1/2 tsp Baking Soda
1 tsp Salt
2 Eggs
1 cup Milk, whole
3 oz Pistachio Paste
3 oz Vanilla Extract
3 oz Pistachios, ground
Peach Gelee
4 oz Peach Monin Premium Syrup
4 oz Water
4 oz Sugar, granulated 
3 each Gelatin, sheets, bloomed
Bavarian Cream
2 tbsp Water
1 packet Gelatin, powder
1/2 cup Milk, whole
2 tbsp Heavy cream
1/4 cup Sugar, granulated
1 each Vanilla bean
pinch Salt, kosher
2 each Egg yolk, lightly beaten, room temperature
1 cup Heavy cream, chilled, lightly whipped
Assembly
1/2 cup Honey
1/4 cup Water
1 each Strawberry, sliced
1 each Peach
1 each Nectarine
2 cups Heavy Cream, whipped to stiff peak
1/4 cup Pistachios, roasted & chopped (for garnish)
12 each Pistachios Sponge Cakes, cut into 2.5 inch circles
Instructions
Pistachio Sponge Cake
Preheat oven to 350°F (175ºC). Prepare a half-sheet pan with non-stick cooking spray and parchment paper. Using a stand mixer fitted with a paddle attachment cream unsalted softened butter and granulated sugar until light and fluffy. Scrap down the side of the bowl. While continuing to mix on medium speed, add one egg at a time, followed by the sour cream. Sift all-purpose flour, baking powder, baking soda, and salt and add in three equal parts. Scrape down the side of the bowl in between each addition. Add milk, pistachio paste, and ground pistachio. Combine well. Place sponge batter on a half-sheet pan and spread out evenly. Bake for 15-20 minutes until the cake springs back and the toothpick comes out clean. Set aside to cool.
Peach Gelee
Boil granulated sugar and water until no sugar is visible on the bottom of saucepan. Add Peach Monin Syrup and place on simmer for one minute more. Remove from heat and add bloomed gelatin. Combine well.
Bavarian Cream
Pour the water into a small bowl. Sprinkle the powdered gelatin over the surface; let it set up for five minutes. Combine the whole milk, heavy cream, granulated sugar, vanilla bean and its scrapings, and salt in a medium, heavy-bottomed saucepan over medium heat. Cook for a few minutes until frothy, but do not let the mixture come to a boil. Immediately pour into the beaten egg yolks, whisking constantly to incorporate, then whisk in the set-up gelatin, until smooth. Strain the mixture through a fine-mesh strainer into a separate bowl. Seat the bowlful inside a much larger bowl filled with ice cubes and cold water and cool down the mixture to 68°F (20°C). Combine the whipped cream and the cooled base mixture in the bowl of a stand mixer or handheld electric mixer; beat on medium-low speed for about 30 seconds or until creamy smooth, with a soft ribbon pattern that forms on the surface. `At this point, the Bavarian cream can be used right away or covered and refrigerated.
Assembly
Using six 10-ounce glass cups, pour the gelee mixture evenly into the bottom of the cups. Add an even amount of strawberries to each cup. Set into the refrigerator for about one hour until peach gelee is set. Meanwhile, heat water and honey in a sauce pot until it comes to a boil. Remove from heat and set aside. Remove parchment paper from the sponge cake and using a 2.5 inch (6.5 cm) circle cookie cutter, cut the sponge cake into twelve circles. To layer the trifle cup in order, place the sponge cake on top of the gelee inside the cup. Using a brush soak each sponge cake with honey/water syrup. Pipe a ¼-inch (0.5cm) layer of Bavarian Cream on top of sponge cake. Place two slices of peach and nectarines on top of Bavarian cream and cover with Bavarian Cream. Repeat the order one more time, however instead of adding Bavarian cream as the last step, add whipped cream. Garnish with chopped roasted pistachio. Refrigerate for at least one hour before serving.
    Pro Tip:
A trifle is a layered dessert of English origin.
Three gelatin sheets equal ¾ tablespoon of powdered gelatin.
Two packages of powdered gelatin equal five teaspoons.
When using powdered gelatin, follow the manufacturer's instructions. 
How to bloom gelatin sheets? Place the gelatin sheets in a bowl of cold water and allow it to sit for five to ten minutes. Remove the gelatin sheets from the bowl of cold water. Wring the gelatin sheets gently, being careful not to rip them. Add to the warm base.
Peach Monin Premium Syrup is the perfect ingredient for many desserts and beyond and is commercially available. It may be replaced with your favorite fruit syrup.
If pistachio paste is unavailable commercially, the following instructions will result in a bright green pistachio paste. What makes the best pistachio paste? Raw pistachios that are unsalted and not roasted. To remove any brown skin of the pistachios you need to blanch them. Bring a pot of water to a boil, add the pistachios, and remove the pot from the heat. Soak the pistachios for 30 seconds and then transfer them into a bowl with ice water. Transfer the cooled pistachios to a clean towel. Gently rub the blanched pistachios between the towels to peel off any brown skin. You may need to help some stubborn ones by peeling them individually with your fingers. Separate the peeled pistachios from the brown skin. This process can be a bit tedious, but it is worth it. Add the pistachios to a food processor. Process until smooth, adding as little water as possible to smooth things. During this process pistachios go through different stages: whole > crumbs > powder/flour > paste.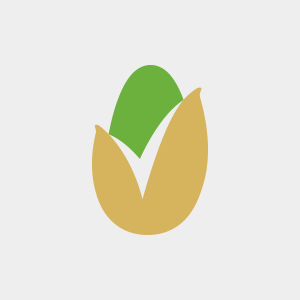 American Pistachio Growers (APG) is a non-profit trade association representing over 800 grower members in California, Arizona, and New Mexico.