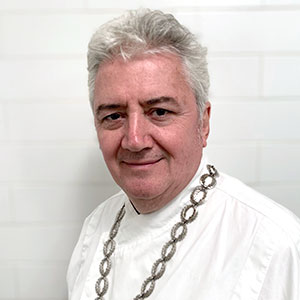 Heights Casino, Executive Chef
Member, Académie Culinaire de France
Médaille d'Or, Académie Culinaire de France
Chevalier, Ordre du Mérite Agricole*
Médaille de Vermeil, Ville de Paris**
President – Maître Cuisinier de France USA-Caneda Chapter
Chef Jean Louis has been professionally cooking for over 40 years at some of the finest establishments in the world. Born in Poitiers and raised in Paris, he grew up in a family of restaurateurs. Jean-Louis graduated at the top of his class at L'École Hôtelière Jean Drouant in Paris, France's #1 restaurant cooking and management school, where he met his wife.
​Training in some of Europe's best kitchens and over the course of his professional life, Jean-Louis has cooked around the world, from Thailand to Scotland, Portugal, England, Mexico, Canada, Morocco and of course, across the United States and France. Each locale has helped to educate, influence and further refine his cuisine and culinary vision.
Jean-Louis is certainly no stranger to the New York City restaurant scene. In 1992, he opened Trois Jean Bistro, where his cuisine was described regularly as "Breathtakingly good" (The New York Times), "authentic" (Elle; William Grimes) and "extraordinary" (Zagat). Following the sale of Trois Jean in 2000, Jean-Louis worked with friend and mentor Jean-Louis Palladin at Palladin, at The Carlyle Hotel where he opened dumonet at The Carlyle, at Saks Fifth Avenue as Executive Chef and Food & Beverage Corporate Director, at The Union Club, the oldest private Men's social club in the US, as its Executive Chef – the same position he currently occupies at Brooklyn's Heights Casino, home of the 1st indoor tennis court in the US – all this besides opening a pop-up restaurant with his wife for one year. Jean-Louis has also been a "Maître Cuisinier de France" and member of the French Master Chef (MCF) Organization for over 20 years. He remains incredibly active in the organization and has served as President of the USA-Canada chapter of the Maîtres Cuisiniers de France since 2005.
Chef Dumonet's cooking is best described as contemporary, haute yet hearty, with a focus on simplicity and letting the ingredients speak for themselves. With his talented touch, exciting flavors and texture nuances are constantly rediscovered.
---
* This Chevalier, Ordre du Mérite Agricole is bestowed by the French Republic for outstanding contributions to agriculture. When it was created in 1883, it was second in importance only to the Legion of Honour within the French order of precedence.
** The Médaille de Vermeil, Ville de Paris is a distinction created in 1911 and awarded by the mayor of Paris.