Marjolaine of foie Gras and Pistachio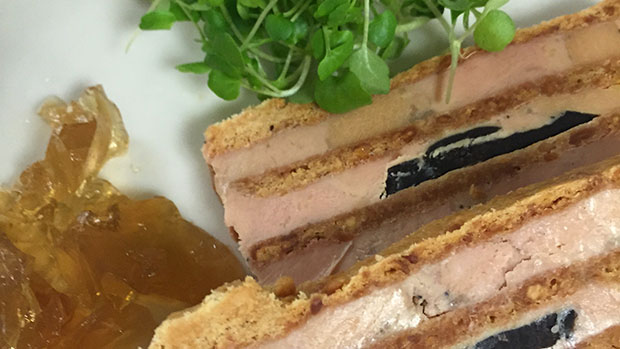 Yield
12 servings
Ingredients
1 pinch salt
3-1/2 ounces egg whites
3-1/2 ounces water
5-1/4 ounces AP flour
4-1/2 ounces butter, at room
temperature
5 ounces chopped pistachios
1 (750 gram) Fois Gras terrine
Truffle slices, as needed
Instructions
Combine salt, egg whites, water, flour, butter and pistachios.
Thinly layer the mixture on a pastry buttered sheet pan or silpat; mark 4 bands (it will be easier to pull them apart after cooking)
Bake in 350 degree F. oven for 16 minutes; carefully flip (be careful it is fragile), then cook for an extra 8 minutes.
When fully baked, cut in four length wise.
Remove a 9-ounce foie gras piece from the terrine and work it.
Put ½-inch slice of the foie gras on a slice of marjolaine, and top a second
slice of the marjolaine.
Repeat the step another time with 1/4-inch slice of foie gras. Top with truffle slices and another ¼-inch slice of fois gras.
Repeat with a ½-inch slice of foie gras.
Gently,press it and let it set for a minimum of 6 to 8 hours.
You can serve it with a small cup of consommé mixed with Pineau des Charentes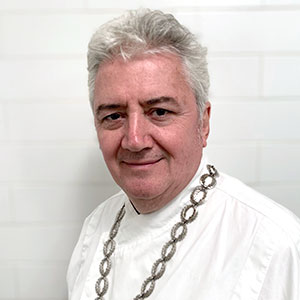 Heights Casino, Executive Chef
Member, Académie Culinaire de France
Médaille d'Or, Académie Culinaire de France
Chevalier, Ordre du Mérite Agricole*
Médaille de Vermeil, Ville de Paris**
President – Maître Cuisinier de France USA-Caneda Chapter