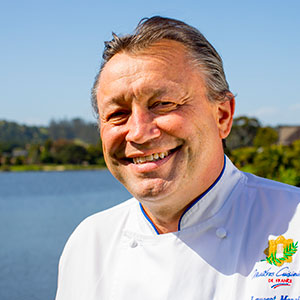 Owner of Café de la Presse and Blanc et Rouge and Herlen Place Wine Bars, San Francisco
Co-owner of Aquitaine Wine Bistro, San Francisco; Millésime, New York
Member – Maître Cuisinier de France (Master Chef of France)
Recipient of Chevalier du Merite Agricole (Knight of the Order of Agricultural Merit)
Laurent Manrique learned of his love for cooking while growing up in the Gascon village of Roques. Preparing meals with his grandmother Aurélie awakened his awareness of his passion for the craft, while giving him inspiration for the signature pot-au-feu that appears on nearly all of his menus.
Embarking on a culinary career at age 14 led him to an apprenticeship with Master Chef Roger Duffour, followed by training in Paris, where he worked with Master Chefs Yan Jacquot and Claude Deligne at Michelin-starred Taillevent and Toit de Passy. Under the encouragement of Master Chef Michel Rostang, Manrique came to Los Angeles in 1989 to work at restaurants Fennel and Rex.
Manrique moved to New York City in 1991 to take over as Le Grand Comptoir's Executive Chef. His time at the renowned bistro was followed by an executive chef position at the Waldorf Astoria's famed Peacock Alley. In 1998, Manrique was named as Bon Appetit's Rising Star Chef. Soon after, the west coast beckoned and he left New York in 1999 to join San Francisco's Campton Place as Executive Chef where he earned the luxurious restaurant high rankings in both Gourmet's "Top 10 Best Restaurants in the Bay Area," and Food and Wine's "50 Best Hotel Restaurants."
In the spring of 2003, he joined Aqua as Corporate Executive Chef, earning it a 3½-star rating from the San Francisco Chronicle and third place ranking on the Wine Spectator's "San Francisco's Best Restaurants" list as well as inclusion in Robb Report's "Best of the Best of 2004," San Francisco Magazine's "2004 Best in Chow" and 7×7 Magazine's "Best Business Lunch." In 2006, the esteemed Michelin Guide honored Aqua with two stars, giving Manrique the distinction of being the only French chef in the region to have done so. Aqua earned two stars again in 2007 and 2008. In 2011 Manrique was appointed to the class of Master Chefs admitted to the prestigious Association des Maîtres Cuisiniers de France. As well as consulting on various food and beverage projects, Manrique previously partnered with the historic Carlton hotel on Madison Avenue to open Millésime, an upscale seafood brasserie in November 2010 and was named one of New York's Best New Restaurants 2011 by Esquire magazine.
In 2005 Manrique opened Café de la Presse, San Francisco's celebrated Parisian-inspired bistro that enjoys the distinction of being among the city's most popular dining destinations. Three years later saw the opening of the wine bar Blanc et Rouge. Manrique continued his love of wine bars by opening Aquitaine Wine Bistro in April 2014 and Herlen Place in 2017; a new concept located in SF's Financial District that will open for breakfast, lunch and dinner with a focus on vegetables and seasonal dishes, as well as a wine list that will lean towards organic, biodynamic and sustainable offerings from California.
Laurent Manrique is a member of the Association des Maitres Cuisiniers de France as well as a Knight of the Order of Agricultural Merit (Chevalier du Mérite Agricole).
"When I came to California, I discovered the greatness of cooking with pistachios. There are so many things you can do, from savory dishes to sweet. The inspiration is endless. Put them on salads and in pates. Even when you cook pistachios, they keep that wonderful texture and crunch."