Pistachios-Crusted Scallops with Fennels and Peach Salad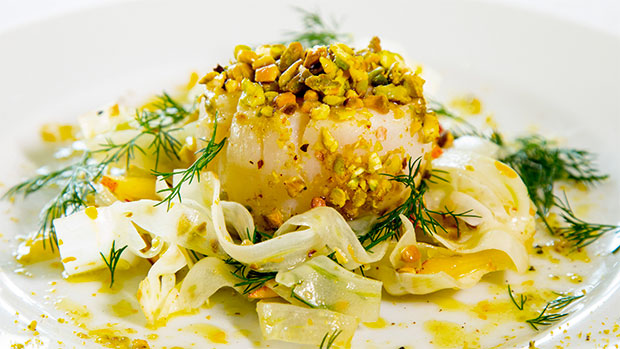 Yield
5 servings
Ingredients
Fennel and Peach Salad
½ pound Fennel, thinly julienned
5 ounces Peaches, peeled and thinly julienned
5 tablespoons Lemon olive oil 
1 tablespoon Sherry vinegar
Salt and pepper to taste
4 tablespoon Chopped fresh mint 
Vinaigrette
Zest of large Meyer lemon 
Juice of Large Meyer lemon 
5 tablespoon Pistachio oil 
1 tablespoon Penrod liquor  
3 tablespoons White balsamic vinegar (much less sweet than the red) 
Pistachio-Crusted Scallops
1 Egg white  
12 ounces Scallops or 5 large diver scallops (1 scallop per portion)
5 ounces Pistachios, coarsely chopped 
2 tablespoon Unsalted butter  
1 tablespoon Vegetable oil
Instructions
For the Fennel and Peach Salad
In a large bowl, marinate the fennel, peach, lemon oil, and sherry vinegar for 30 minutes. (Do not add salt at this moment.) Refrigerate.
For the Vinaigrette
Add all the ingredients into a mixing bowl; whisk thoroughly until the vinaigrette is emulsified. Reserve at room temperature.
When it's time to assemble the salad (after the scallops are cooked), remove the fennel and peach mixture from the refrigerator. Finish the fennel and peaches by adding salt and pepper, to taste, along with the mint. Add 2 tablespoons of the vinaigrette and mix well. 
For the Pistachio-Crusted Scallops
Preheat the oven to 450 degrees F.
Mix egg whites with a drop of warm water in a small bowl. Dip each scallop (one by one) in the egg mixture and roll them in the chopped pistachios. Make sure each side of the scallops is covered by pistachios. Place pistachio crusted scallops on a plate; refrigerate until the oven has reached 450 degrees F.
In a large nonstick sauté pan, add the butter and vegetable oil over medium heat. When the butter is bubbling, gently place the pistachio-crusted scallops in the pan; cook for 3 minutes on the same side. Remove from heat; carefully place the scallops on a nonstick sheet pan; salt each scallop and place them in the hot oven for 4 minutes. Remove from oven.
To Plate
On each plate, center a portion of the fennel and peach salad. Place scallops atop the salad. Drizzle one tablespoon of the vinaigrette over the scallop. Arrange the remaining vinaigrette around salad.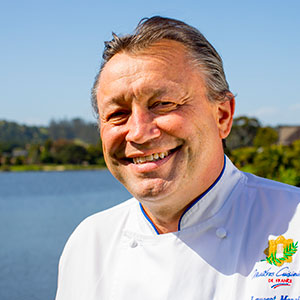 Owner of Café de la Presse and Blanc et Rouge and Herlen Place Wine Bars, San Francisco
Co-owner of Aquitaine Wine Bistro, San Francisco; Millésime, New York
Member – Maître Cuisinier de France (Master Chef of France)
Recipient of Chevalier du Merite Agricole (Knight of the Order of Agricultural Merit)