Caramelized Pistachio & Chunky Chocolate Chip Bars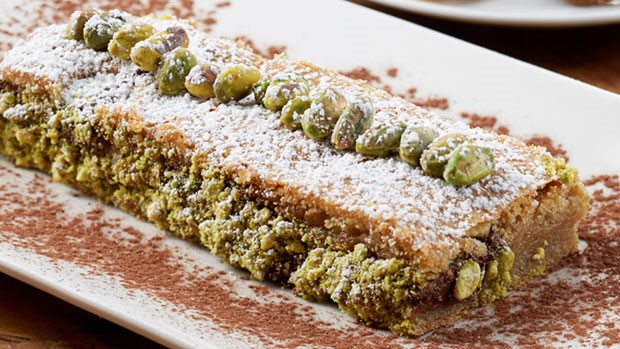 Yield
Serves 8-10
Ingredients
½ cup Water
1 cup White sugar
1 tablespoon Ground cinnamon
2 cups Pistachio kernels
1 cup Butter
1 cup Granulated white sugar
1 cup Brown sugar
2 Eggs
2 teaspoons Vanilla
2.5 cups Flour
½ cup Raw Oats
1 tablespoon Baking soda
1 heaping tsp. Kosher salt + 1 large pinch to garnish
12 oz. (340 g) Semi-sweet chocolate, coarsely chopped
Instructions
Combine the water, sugar and cinnamon in a saucepan over medium heat. As soon as the liquid begins to boil add the pistachio kernels. Stir the mixture continually until the liquid evaporates and leaves a syrupy coating on the nuts. Pour the nuts onto a baking sheet lined with parchment paper. Separate pistachios using a large fork. Allow to cool for 15 minutes.
Preheat an oven to 325 degrees.
Combine the flour, salt and baking soda in a separate bowl and set aside. In the bowl of an electric mixer fitted with the paddle attachment, cream the butter and both sugars. Add eggs and vanilla and beat until smooth. On low speed, slowly incoporate the flour mixture. When the dough is thoroughly combined, add the chocolate chunks and caramelized pistachios and beat dough on high speed just until the nuts and chocolate are evenly distributed.
Press the dough into two buttered 8 x 8 glass baking pans and sprinkle a pinch of salt lightly over the top. Bake one pan at a time in the pre-heated oven for approximately 12 minutes, or just until a toothpick comes out clean. Be careful not to overbake, as bars will continue to cook slightly in the hot pan even after being removed from the oven. Allow to cool to the touch, cut into 2 x 3" bars and enjoy!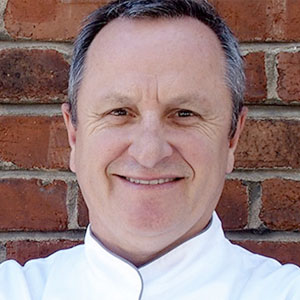 Chef / Owner, Piperade and Bocadillos, Williams-Sonoma Catering, San Francisco, California
Co-owner, Clos Pissara Winery, Catalonia, Spain
Member, Maitre Cuisinier de France
Recipient of Chevalier du Merite Agricole