Pistachio Gazpacho with Watermelon and Cucumber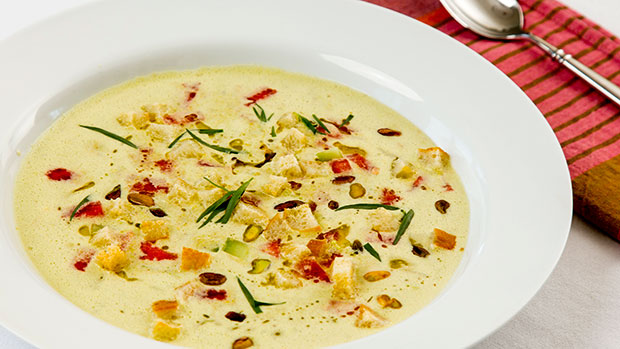 Yield
4 servings
Ingredients
2 cups Pistachios, shelled
1 medium Cucumber, peeled, seeded and diced in 1/2-inch cubes
1 cup Celery stalk, diced
1½ cups Pain de mie (or other soft white bread) chopped
2 Small garlic cloves, 
4 cups Cold water
Juice of one Lemon
2 teaspoons Kosher salt
1 cup Watermelon, ¼-inch cubes
1 cup Croutons
4 sprigs Fresh tarragon
1/8 teaspoon Ground white pepper
Extra virgin olive oil
Instructions
In a large bowl, combine the pistachios, most of the diced cucumber (reserving a small amount for garnish), celery, pain de mie, garlic, and water.
Working in 2 separate batches, pour half of the ingredients into a blender and puree on high speed until contents are smooth throughout, about 2 minutes, and then transfer to a large bowl. Repeat with remaining ingredients. Stir in the freshly squeezed lemon juice.
Strain all of the liquid through a fine mesh sieve into a glass bowl or airtight container, gently pushing all of the liquid through with a spatula or back of a ladle. Discard the solid ingredients.
Season the gazpacho with salt; refrigerate until well chilled, at least 2 hours or overnight.
To plate
Divide the gazpacho into 4 shallow bowls and garnish evenly with the reserved cucumber and diced watermelon.  Scatter croutons and a sprig of tarragon on top of each bowl. Season with ground white pepper to taste and drizzle small dots of extra virgin olive oil over the top.
Serve immediately.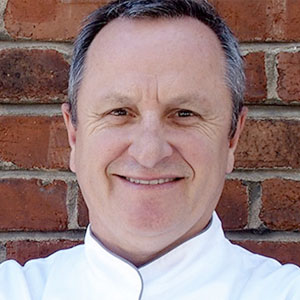 Chef / Owner, Piperade and Bocadillos, Williams-Sonoma Catering, San Francisco, California
Co-owner, Clos Pissara Winery, Catalonia, Spain
Member, Maitre Cuisinier de France
Recipient of Chevalier du Merite Agricole