Country Pork Pate with Pistachios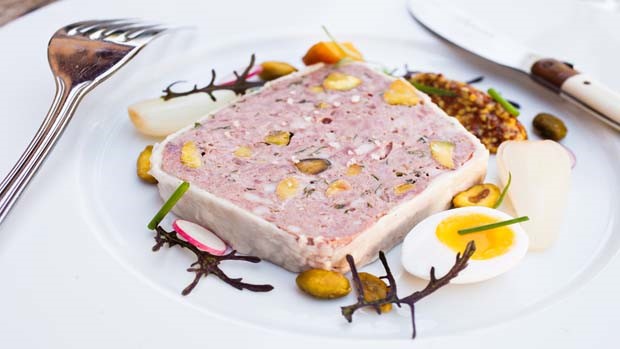 Ingredients
3 pounds Fresh pork(ham)
1.5 pound Fat back
½ pound Chicken liver
½ Onion, minced
2 Fresh bay leaves
½ tablespoon Pureed garlic
3 ounces Brandy
3 ounces White wine
Pinch Sugar
1 cup Toasted pistachios
20 grams Salt
8 grams White pepper
6 grams Selrose (curing salt)
3 grams 4 spice
½ bunch Parsley leaves, picked and washed
2 tablespoons Fresh picked thyme
Instructions
Cut the meat and fat into 1" cubes and put into a large bowl and place in fridge until ready.
Add onion, garlic, brandy, wine, bay leaves, into a 2 quart saucepan and simmer on low for 15-20 minutes, and reduce till about half. Let cool.
Add the salt, selrose, pepper, 4 spice, parsley leaves, thyme, to the diced meat and stir to incorporate. When the wine mixture has cooled, add to the meat and stir in. Let meat marinade overnight.
Preheat the oven to 350˚ F.
Toast the pistachios until fragrant and reserve.
Grind the meat through the medium die once being sure to keep the meat as cold as possible. When the pistachios are cool, fold into the meat. Paddle the mixture in a kitchen aid for 2 minutes on medium speed to bind the meat.
Line a terrine mold with plastic film and pack the mixture into it, pressing firmly to let out any air pockets. Top the terrine with a couple more bay leaves and a sprig of rosemary then cover and bake until they reach 155˚ degrees internally. Cool and place in fridge overnight.
Unmold and slice. Serve with crusty bread, dijon mustard and pickles.