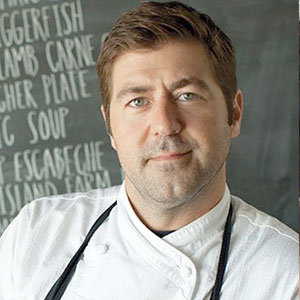 Mike Lata is Chef/Partner of FIG Restaurant in Charleston, SC, which he opened in 2003 with partner Adam Nemirow. In December 2012, Lata and Nemirow opened The Ordinary, a classic oyster bar and seafood hall in Charleston's Upper King district. GQ named it one of the best restaurants of the year.
A native New Englander, Mike started his culinary career at an early age, working the kitchens of Boston, New Orleans, Atlanta and France before landing in Charleston, in 1998. Mike is a hands-on, self-taught chef who delights in making the most basic things delicious and uncomplicated. His commitment to support local farmers, fishermen and purveyors has cemented his position as a notable champion for Charleston's flourishing culinary renaissance. Mike is cofounder of the Charleston Slow Food convivium.
Recipient of the 2009 James Beard Foundation Award, "Best Chef: Southeast," Mike has been featured in Food & Wine, Bon Appetit, Esquire, Garden & Gun, Southern Living, Travel + Leisure magazines, as well as USA Today and The New York Times.