Gateau Russe d'Oloron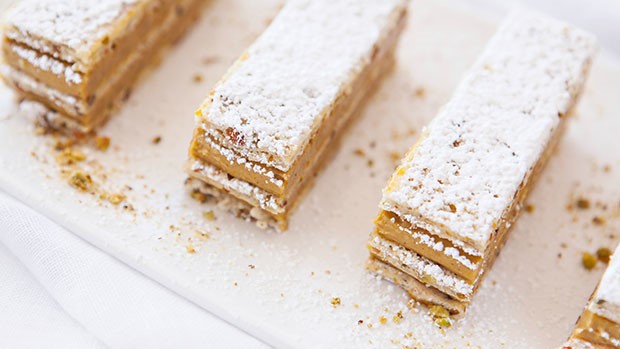 Yield
8-10     High Yield: 80-100
Ingredients
Biscuit

Metric
Grams
Original

Metric
High-Volume

Yield %

Bakers %

   Comments

Serves

8-10

80-100

 
 
 

Pistachio, flour

65 g

650 g

16.88 %

260.00 %

 

Sugar, granulated¹

65 g

650 g

16.88 %

260.00 %

 

Sugar, granulated²

25 g

250 g

6.49 %

100.00 %

 

Milk

40 g

400 g

10.39 %

160.00 %

 

Flour, All-purpose

25 g

250 g

6.49 %

100.00 %

 

Egg, whites

165 g/ml

1650 g/ml

42.86 %

660.00 %

165 g/ml equals the whites of 5 large eggs

Sugar, powdered

As needed

As needed

 
 
 

Total

385 g

3850 g

100.00 %

1540 %

 
Filling

Metric
Grams
Original

Metric
High-Volume

Yield %

Comments

Butter, unsalted

125 g

1250 g

28.09 %

Softened

Suger, powdered

125 g

1250 g

28.09 %

 

Pistachio, paste

125 g

1250 g

28.09 %

 

Egg, yolks

70 g

700 g

15.73 %

 

Total

445 g

4450 g

100.00 %

 
Garnish

Metric
Grams Original

Metric
High-Volume

Yield %

Comments

Pistachios

60 g

600 g

100.00 %

Coarsely ground

Suger, powdered

As needed

As needed

 
 

Total

60 g

600 g

100.00 %

 
Instructions
Cake pan 25 cm x 30 cm
Method:
Line a half-sheet pan with parchment paper. Butter and flour the parchment and all sides of the pan; set aside. Preheat an oven to 175 ⁰C. Combine the pistachio powder and sugar¹ in a large mixing bowl. Add the milk and whisk firmly until ingredients are evenly moistened. Whisk in the flour; set aside.
In the bowl of an electric mixer fitted with the whisk, add the egg whites and whip them to a soft peak. As the egg whites begin to stiffen, add the sugar² and continue beating until fully combined. In small additions gently fold the meringue into the pistachio mixture until evenly distributed.
Carefully spread the biscuit batter onto the prepared pan in a rectangular shape roughly 25 cm x 30 cm. Using a offset palette knife smooth the surface and distribute the biscuit batter evenly. Sprinkle powdered sugar all over the top and bake for approx.15 minutes, or until the biscuit is baked throughout. Set the pan aside to cool.
Filling: place the butter into a medium size bowl. Add the powdered sugar and pistachio paste and combine the ingredients until the texture is smooth and creamy. Firmly whisk the egg yolks into the filling. Set aside.
Carefully trim the edges of the biscuit into a 25 cm x 30 cm rectangle and cut into three 10 cm pieces. Run a flat spatula or knife under the biscuit to separate it from the parchment. Cut both a piece of cardboard and parchment paper and lay them in that order on a rectangular serving platter large enough to comfortably accommodate the cake.
Transfer the filling into a large pastry bag fitted with a round nozzle. Place the first of the three biscuit pieces on top of the parchment. Pipe ⅓ of the filling in straight parallel lines lengthwise on top of the biscuit, carefully covering the entire surface. Place the second biscuit on top of the filling and repeat the same procedure. Top with remaining biscuit. Spread the remaining filling evenly on all sides of the cake. Coat all 4 sides of the cake with the ground pistachios and refrigerate. Top generously with powdered sugar before serving.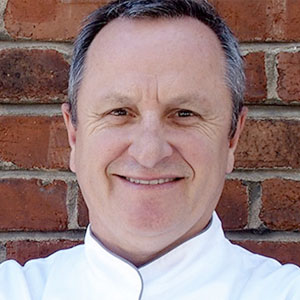 Chef / Owner, Piperade and Bocadillos, Williams-Sonoma Catering, San Francisco, California
Co-owner, Clos Pissara Winery, Catalonia, Spain
Member, Maitre Cuisinier de France
Recipient of Chevalier du Merite Agricole