Lamb & Pistachio Meatball Gratin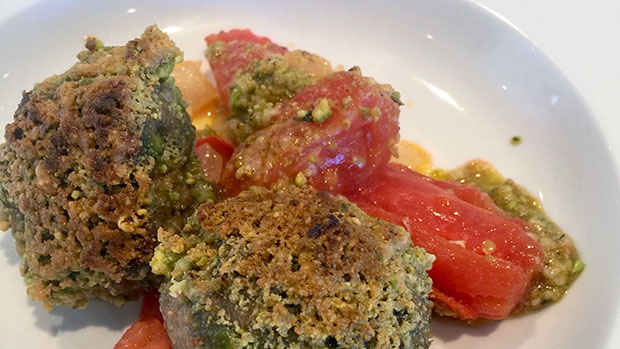 Yield
4 servings
Ingredients
¼ cup + 2 tablespoons olive oil
1 cup Chopped white onion
6 medium Cloves of garlic, finely chopped
1 heaping teaspoon Fresh Thyme leaves
6 Roma tomatoes, quartered
1-1/3 cup Pistachios, shelled and divided
1 pound Lean ground lamb
1 heaping teaspoon Kosher salt
2 teaspoons Freshly ground black pepper
¼ teaspoon Cumin powder
1 Egg, lightly beaten
2 tablespoons Dry breadcrumbs
2 tablespoons Olive oil
1/3 cup Grated Parmesan cheese
1/3 cup Extra virgin olive oil
Instructions
Preheat the oven to 425 degrees F.
Warm the olive oil in a large skillet over medium heat. Add the onion, garlic and thyme and sauté ingredients until softened and lightly browned, about 2-3 minutes.  Add the tomatoes and continue to cook, stirring occasionally for an additional 5-6 minutes or until the tomatoes are cooked through, but not broken apart. Remove from the heat and set aside.
Coarsely chop 1 cup of the pistachios; set aside.
Place the lamb in a large bowl. Mix in the salt, pepper, cumin, egg, breadcrumbs and chopped pistachios and blend together until ingredients are evenly incorporated. Form the meat into 2-ounce balls and set them on a sheet pan.  Drizzle the 2 tablespoons of olive oil over the meatballs.  Place meatballs in the preheated oven for 10-11 minutes or until gently browned.
Using a food processor, blend the remaining 1/3 cup pistachios until nearly powdered. Transfer pistachio powder into a small bowl and combine with the Parmesan cheese.
Preheat the broiler. 
Transfer the tomato mixture into a large oven-proof gratin dish.  Nestle the meatballs into the tomato sauce. Sprinkle the pistachio-Parmesan mixture all over the top and drizzle with the extra virgin olive oil. Place gratin dish under the broiler for 3-4 minutes, or until the cheese is melted and the ingredients are warmed through. Serve immediately.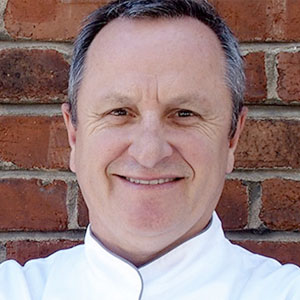 Chef / Owner, Piperade and Bocadillos, Williams-Sonoma Catering, San Francisco, California
Co-owner, Clos Pissara Winery, Catalonia, Spain
Member, Maitre Cuisinier de France
Recipient of Chevalier du Merite Agricole