Peach and Arugula Salad with Pistachios and Lemon Vinaigrette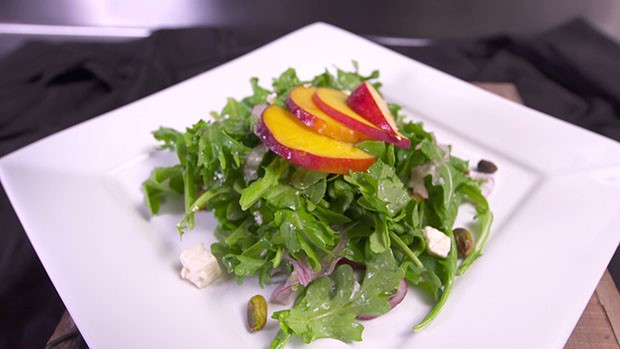 Yield:  4
Ingredients
5 ounces Arugula
1½ Peach thinly sliced for each salad
3 ounces Feta cheese
¼ Red onion thinly sliced for each salad
½ cup Toasted American pistachio kernels
Lemon vinaigrette
Kosher salt and fresh cracker black pepper to taste
Lemon Vinaigrette Ingredients:
1 tablespoon Lemon zest
¼ cup Lemon juice
1 tablespoon Italian parley
½ tablespoon Minced garlic
2 tablespoons Dijon mustard
¼ cup Red wine vinegar
½ cup Pistachio oil olive oil
Salt and pepper
Instructions
Make vinaigrette by combining all ingredients except oil for dressing. Add oil slowly to emulsify with food processor or immersion blender. Wash and dry arugula, cut onion in half and slice very thin julienne. Wash and slice peach in ⅛th wedges, crumble feta and toasted pistachios.
Mix all ingredients with dressing and season with salt and pepper to taste.