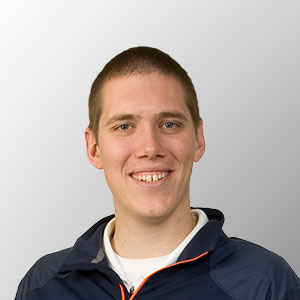 Director of Nutrition, Denver Broncos
Bryan Snyder, Nutrition Director for the Denver Broncos, agrees the power of pistachios makes an ideal snack whether a person is a professional athlete or an armchair spectator. He's tasked with developing the year-round nutrition strategy designed to support the intense physical requirements of his players. "Pistachios, one of my best recommendations, are they're packed with nutrients. Heart health and living a healthy, active lifestyle requires making smart choices regarding nutrition—choices that support the goals we make," says Snyder.
From the Kitchen of Bryan Snyder
Denver Broncos Nutrition Director, Bryan Snyder, and Executive Chef Justin Domsch whip up healthy snacks, sides and entrees with "oh so good for you" pistachios.
"Pistachio and Date Energy Bites Provide a Quick Boost of Energy."
"Pistachio Crusted Cobia Is a Mean and Lean Healthful Dish."
"Quinoa Pilaf with Pistachios Are Colorful, Filling and Good for Digestive Health."
"Peach and Arugula Salad with Pistachios Offers Crunch, Delicious Taste and Nutrition."
"Sweet Potato Gnocchi with Pistachio Kale Pesto Combines Amazing Taste with Healthful Eating."
Sports Nutrition Tips for Athletes and Active Consumers
Interested in some professional insider nutrition advice?  Bryan Snyder, Director of Nutrition for the Denver Broncos answered a variety of nutrition-related questions from coaches, athletes and active consumers. Check them out below.
@ourflipsidelife: Any healthy holiday recipes?
@Az6_ali: What are some good foods that increase your energy or help athletic performance?
@billkeyster0012: Hi Bryan, how do you personally prepare pistachios for your athletes? Are they best pre, post or even intra workout?
@CyberThe'Great': Hello, I watched your first video..! I am also allergic to all types of nuts. Do you have a good diet for someone with allergies like this?
@coffee_cabin: What are the best foods to avoid in the effort to help lose belly fat for men?
@Az6_ali: What are some foods that could help me lose weight and what are some foods that help your stamina?
@alexandradeis: What's the most common request athletes ask you as a nutritionist?
@B.thomas31: After I've had my post-workout recovery meal/shake, how soon after that should I eat when trying to put on size?
@katelyn.edmundson77: Would all of the athletes need to have the same meal plan? What if some of the athletes have allergies? How would you alter the meal plan for those athletes?

@abbyelizabeth06: Do you give each player their own meal plan or are most of the player's meal plans the same?
@tuesdayisreallymonday: How would you compare your teams nutrition to the everyday person?
@alliematoian7: Wassup Bryan, What's the best food to eat before a volleyball game?

@roberthanna001: What nutrition snack would you eat if you were in soccer?
@Ianhall1226: How would you explain the health benefits of Pistachios for athletes?
@TaliaHov001: What is the best recovery meal for after water polo?
@gavin_nelson: How often would you snack on healthy foods? Do they have to be in proportions or during a certain time of the day?
@Ianhall1226: Hey Bryan, what is the best diet for an athlete? I currently coach football and am trying to find a way to find an edge for my players. Thanks.

@kylederksen84: What is the best form of carbohydrates to eat before practice or a game?