Pistachio Blackberry Financier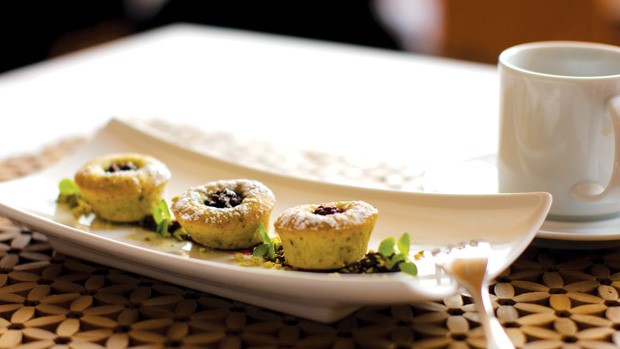 Yield
Approximately 32 mini cakes
Ingredients
½ cup Butter
¾ cup Pistachios, shelled
1 cup Powdered sugar
½ cup Flour
½ cup Egg whites (approximately 4 eggs)
½ pint Large blackberries
Instructions
Preheat oven to 375°F.  In a saucepan, melt butter over medium heat.
Meanwhile, in a food processor, grind pistachios with powdered sugar and flour until finely ground but do not go so far as to make a paste.  Add egg whites, melted butter and mix.  Batter can be used immediately or kept refrigerated for up to 3 days.
When ready to bake, butter tiny tart molds or a mini muffin tin and spoon in batter to fill mold 2/3 of the way.  Cut blackberries in half, the long way, and place ½ on top of the batter cut side down.  Bake for approximately 15 minutes, until golden brown.
Let cool in molds and gently lift cakes out.
 
Nutritional Facts (Amount per Serving):
Calories 60, Total Fat 3.5g, Saturated Fat 2g, Monounsaturated Fat 1g, Cholesterol 10mg, Sodium 30mg, Potassium 30mg, Carbohydrate 6g, Dietary Fiber 0g, Protein less than 1g