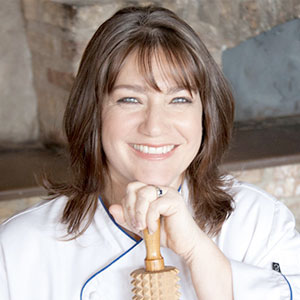 Chef Gale Gand, a nationally acclaimed pastry chef, restaurateur, cookbook author, television personality, teacher and entrepreneur, and a mother, received recognition as "Outstanding Pastry Chef of the Year" by The James Beard Foundation and Bon Appetite magazine, and has been inducted into the Chicago Chefs Hall of Fame.
Gale is the founding pastry chef and partner of the beloved Chicago restaurant Tru, opened with long-time culinary partner Chef Rick Tramonto and restaurateur Rich Melman in 1999. A sensation among Chicago's fine dining community, Tru has earned praise from reviewers and the James Beard Foundation; the guides produced by Michelin, Mobil and AAA guides; Relais Gourmand restaurants; Wine Spectator magazine; and Chicago magazine, who named it Chicago's Best Restaurant.
Gale is a prolific cookbook author with eight titles to her credit, including her most recent Gale Gand's Lunch!, (2014). She produces her own artisan root beer, "Gale's Root Beer," available nationally.
Gale holds a Bachelor of Fine Arts degree from the Rochester Institute of Technology, majoring in silver- and gold-smithing, and attended culinary school at La Varenne in Paris.