Pistachio, Meringue and Prune Mascarpone Cake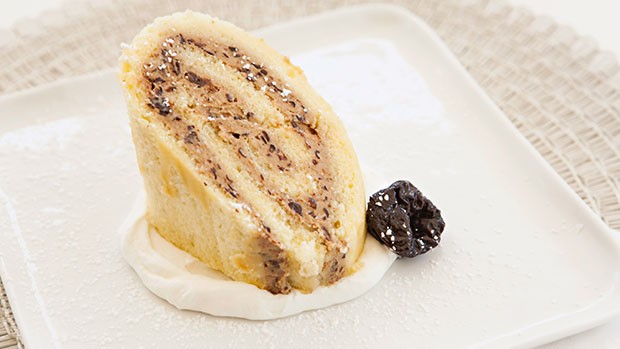 Yield
8-10     High Yield 80-100 Filling for one cake     High Yield Filling for ten cakes
Ingredients
Filling

Metric
Grams
Original

Metric
High-Volume

Yield%  Bakers%

    Comments
| | | | | | |
| --- | --- | --- | --- | --- | --- |
| Sugar, granulated¹ | 125 g | 1250 g | 23.15 % | 100.00 % |   |
| Sugar, granulated² | 15 g | 150 g | 2.78 % | 12.00 % |   |
| Egg, yolks | 85 g | 850 g | 15.74 % | 68.00 % | 85 g is equal to the yolk of 5 large eggs |
| Flour, All-purpose | 125 g | 1250 g | 23.15 % | 100.00 % |   |
| Egg, whites | 130 g | 1300 g | 24.07 % | 104.00 % | 130 g is equal to the whites of 4 large eggs |
| Butter, unsalted | 60 g | 600 g | 11.11 % | 48.00 % | Melted, plus extra for brushing the pan |
| Sugar, powdered | As needed | As needed |   |   |   |
| Total | 540 g | 5400 g | 100 % | 432 % |   |
Filling

Metric
Grams
Original

Metric
High-Volume

Yield%

Comments

 

 
 
 
 

Prune, paste

200 g

2000 g

37.74 %

 

Cheese, mascarpone

200 g

2000 g

37.74 %

 

Brandy, Armagnac

70 g

700 g

13.21 %

 

Cream, heavy

60 g

600 g

11.32 %

 

Total

530 g

5300 g

100.00 %

 
Instructions
Preheat an oven to 175 ⁰ C. Combine the sugar¹ and egg yolks in a large mixing bowl and whip together until the consistency becomes frothy and slightly paler yellow in color. Whisk in the flour and stir continually until it is completely incorporated into the mixture. Line a half-sheet pan with parchment paper, then butter and flour the bottom and sides, including the paper. In the bowl of an electric mixer fitted with the paddle attachment, beat the egg whites until stiff peaks begin to form. Add sugar² and mix until the batter reaches a soft meringue consistency. Using a large whisk, carefully fold the egg white meringue into the egg yolk mixture, little by little until it is fully incorporated. Scrape the sides and bottom of the bowl with a large bowl scraper. Add the melted butter and continue folding the mixture together with a large rubber scraper. Transfer the mixture to the prepared sheet pan and spread the batter out evenly to cover the entire pan. Smooth the surface. Shake powdered sugar all over the top and bake in the preheated oven for 10-12 minutes, or just until set, but still soft. Set aside to cool to room temperature.
Gently peel the cake apart from the parchment and lay it on a straight surface. Trim the edges with a knife to form a rectangular shape. Straighten the surface if needed. Set aside.
Combine prune paste and mascarpone in a large mixing bowl until ingredients are evenly incorporated. Steadily fold in the cream and Armagnac until the mixture appears to be uniform in color and consistency. Set aside.
Spread the filling evenly on top of the sponge cake. Neatly and evenly, roll the cake and the filling into a lengthwise roll, taking care that none of the filling extrudes from the cake. Very carefully transfer the roll to a clean sheet of parchment and roll it up tightly. Firmly cover the roll with plastic wrap and refrigerate for a minimum of 2-3 hours, before slicing and serving.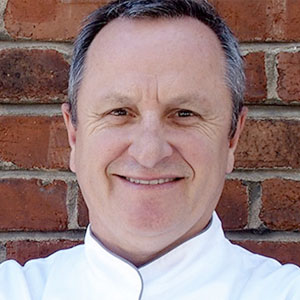 Chef / Owner, Piperade and Bocadillos, Williams-Sonoma Catering, San Francisco, California
Co-owner, Clos Pissara Winery, Catalonia, Spain
Member, Maitre Cuisinier de France
Recipient of Chevalier du Merite Agricole