Pistachio Rice with Dill & Rose Petals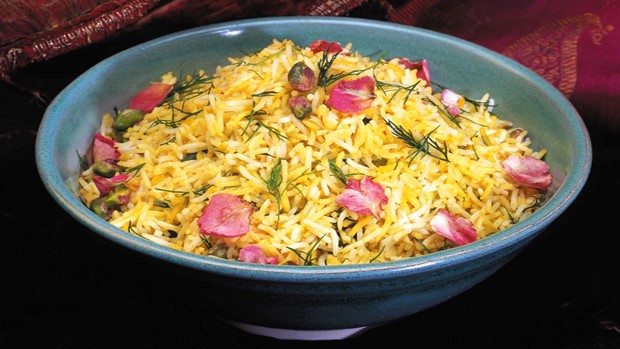 Yield
4 servings
Ingredients
2 cups white basmati rice
4 tablespoon vegetable oil, butter or ghee
1 medium onion, peeled and thinly sliced
4 cardamom pods, crushed
¼ teaspoon ground saffron threads dissolved in 2 tablespoons rose water
2 teaspoons salt
4 cups warm broth or water
4 tablespoons oil or melted butter
1 cup raw pistachio kernels, parboiled, drained, and rinsed
2½ cups chopped fresh dill
1 tablespoon organic rose petals
½ cup fresh pomegranate seeds (optional)
Instructions
Pick over the rice carefully to remove its many small solid particles of grit. Wash the rice by placing it in a large container and covering it with lukewarm water. Agitate gently with your hand, then pour off the water. Repeat five times until the rice is completely clean. Heat 4 tablespoons oil in a wok over medium heat. Add the onion slices and fry for 15 minutes until golden brown. Add the rice, cardamom, and saffron rose water, and stir-fry for 1 minute. Add the salt and warm stock, and bring to a boil; stir gently once. Reduce heat to medium-low, cover tightly and cook for 30 minutes.
Remove from heat, add the oil, and pistachio, and sprinkle the dill and rose petals over the top, and fluff with a fork. Cover and let stand for 10 minutes before serving.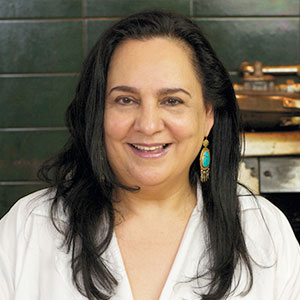 Today, Najmieh cooks, travels, and adapts authentic Persian recipes to tastes and techniques in the West.