Fish with Pistachio, Fresh Herb & Barberry Stuffing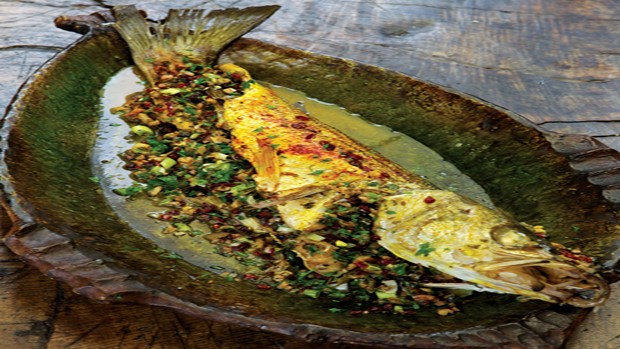 Yield
4 servings
Ingredients
Fish:
1 large whole fish (striped bass or rockfish), between 4–5 pounds, scaled, butterflied, and skin scored; or 2 thick fillets of fish, about 3 pounds
½ cup oil
¼ cup fresh lime juice
Dusting:
1 teaspoon sea salt
1 teaspoon freshly ground black pepper
1 teaspoon turmeric
Filling:
½ cup oil, butter, or ghee*
4 cloves garlic, peeled and sliced
¼ cup chopped fresh parsley
2 tablespoons chopped fresh tarragon
4 spring onions, chopped
½ cup chopped fresh cilantro
½ cup chopped fresh mint or 2 tablespoons dried mint
1 cup coarsely ground raw pistachio kernels
½ cup dried barberries,* cleaned, soaked for 10 minutes in cold water, drained, and rinsed, or use ½ cup dried cranberries
½ cup golden, or green, raisins
¼ cup fresh lime juice
2 teaspoons sea salt
¼ teaspoon freshly ground
black pepper
¼ teaspoon ground saffron dissolved in 2 tablespoons hot water (optional)
Garnish:
2 bitter oranges (Seville) or limes
Instructions
Preheat oven to 400˚F. Line a rimmed baking sheet, or dish, with a layer of aluminum foil and a layer of parchment paper (overhang the baking sheet for lifting if necessary). Generously oil the parchment paper. Rinse fish in cold water and pat dry with a towel. Lay the fish on the lined baking sheet. Paint it all over, inside and out, with oil and lime juice. Then rub, inside and out, with the dusting mixture. Heat 4 tablespoons oil in a wide skillet over medium heat and sauté the garlic for 1 minute. Add the parsley, tarragon, spring onions, cilantro, mint, pistachio kernels, barberries, raisins, lime juice, salt, and pepper and sauté for 2 minutes longer. Remove from heat and set aside to cool. Stuff the fish with the filling and sew or pin cavity shut. Drizzle the remaining oil and saffron water over the fish. (You may prepare the stuffing the day before.)
Place in the in the preheated oven and bake, uncovered, for 40 to 45 minutes (depending on the size of the fish) until the fish flakes easily with a fork. Remove from the oven and remove the skin from the fish. Lift the fish and place it on a serving platter. Baste with the pan juices and squeeze the juice of the bitter oranges over the fish. Serve with saffron-steamed plain rice.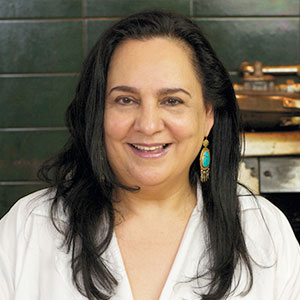 Today, Najmieh cooks, travels, and adapts authentic Persian recipes to tastes and techniques in the West.