Pistachio Soup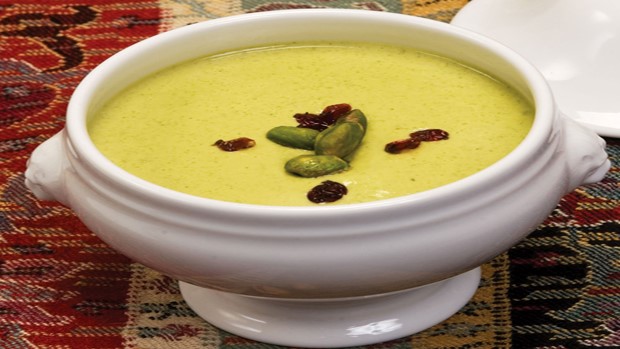 Yield
4 servings
Ingredients
Garnish
1 tablespoon oil
⅓ cup barberries, picked over and rinsed thoroughly with cold water
1 teaspoon grape molasses or sugar
2 tablespoons pistachios kernels, picked over and any shell bits removed
Soup
1 cup raw pistachios kernels
2 tablespoons oil or butter
1 shallot, peeled and thinly chopped
1 leek (white and green parts), washed thoroughly and finely chopped
1 clove garlic, peeled and thinly sliced
½-inch fresh ginger, peeled and grated
1 tablespoon ground cumin
1 teaspoon ground coriander
½ teaspoon cayenne
1 tablespoon rice flour
8 cups chicken broth
1 teaspoon sea salt
¼ teaspoon pepper
1 teaspoon grape molasses or sugar
½ cup bitter orange juice or
mixture of 2 tablespoons fresh lime juice and ¼ cup orange juice
Instructions
To make the garnis
 Heat 1 tablespoon oil in a medium-sized skillet over low heat. Add the barberries, grape molasses, and 2 tablespoons water, and sauté for 1 minute (be careful, barberries burn easily). Add the pistachios and sauté for 20 seconds. Remove from heat and set aside.
To make the soup
Pick over the pistachios to be sure there are no broken shells or other particles in them. Grind the pistachios in a food processor or grinder until very smooth. Set aside. In a heavy, medium-sized pot, heat the oil over medium heat. Add the shallots, leeks, garlic, ginger, cumin, coriander, and cayenne. Sauté for 3 minutes. Add the rice flour and sauté for 1 minute. Add the broth, stirring constantly until it comes to a boil.
Reduce heat. Add pistachios, salt, pepper, and grape molasses. Stir well. Cover and simmer over medium-low heat, stirring occasionally, for 55 minutes. Add bitter orange juice. Adjust seasoning to taste.
Pour the soup into a tureen and garnish. Serve with hot flat bread.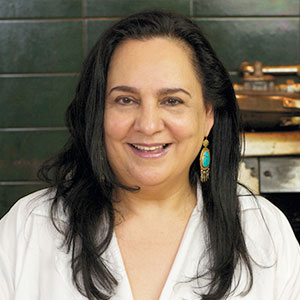 Today, Najmieh cooks, travels, and adapts authentic Persian recipes to tastes and techniques in the West.