Pomegranate & Pistachio Braise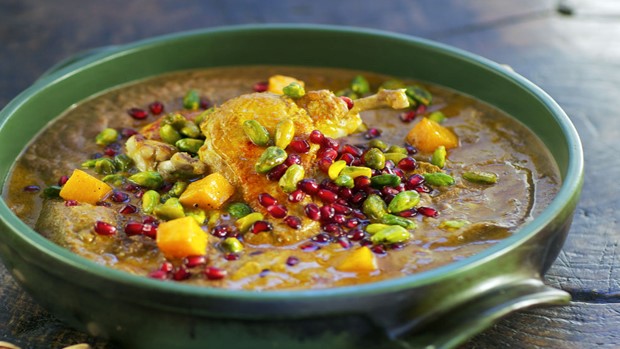 Yield
6 servings
Ingredients
1½ cups (½ pound) raw pistachio kernels
4 tablespoons oil, butter, or ghee*
2 large onions, peeled and thinly sliced
2 pounds chicken legs, cut up
1 pound butternut squash, peeled and cut into 2-inch cubes*
4 cups pure pomegranate juice
¼ cup pomegranate molasses
1 teaspoon sea salt
¼ teaspoon freshly ground pepper
¼ teaspoon turmeric
½ teaspoon cinnamon
2 teaspoons ground cardamom
¼ teaspoon ground saffron dissolved in 1 tablespoon rose water or hot water
Garnish:
Arils of 1 fresh pomegranate
½ cup raw pistachio kernels
Instructions
To toast the pistachios: Preheat the oven to 350°F (180°C). Spread the nuts in a sheet pan and bake for 3 minutes. Set aside. In a Dutch oven, heat 2 tablespoons oil over medium heat until very hot, and sauté the onions. Remove from Dutch oven with a slotted spoon and set aside. Add 2 more tablespoons oil to the Dutch oven and brown the chicken. Add the butternut squash and sauté for a few minutes.
In a food processor, finely grind the sautéed onions with the toasted pistachios, add only 1 cup pomegranate juice, the pomegranate molasses, salt, pepper, turmeric, cinnamon, cardamom, and saffron-rose water, and mix well to create a creamy paste. Add the creamy pistachio paste and remaining pomegranate juice to the chicken in the Dutch oven, stirring gently. Cover and simmer over low heat for 1½ hours, stirring occasionally with a wooden spoon to prevent the nuts from burning. The braise should be sweet and sour and have the consistency of heavy cream. Adjust to taste by adding pomegranate molasses for sourness. If the sauce is too thick, thin it with more pomegranate juice. Transfer the braise from the Dutch oven to a deep, ovenproof casserole. Cover and place in a warm oven until ready to serve with saffron-steamed rice. Just prior to serving, sprinkle with fresh pomegranate arils and pistachio kernels.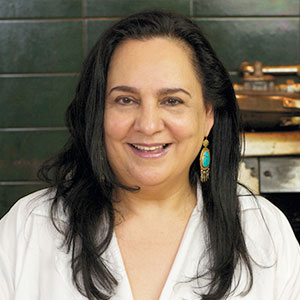 Today, Najmieh cooks, travels, and adapts authentic Persian recipes to tastes and techniques in the West.