Prune & Pistachio Progress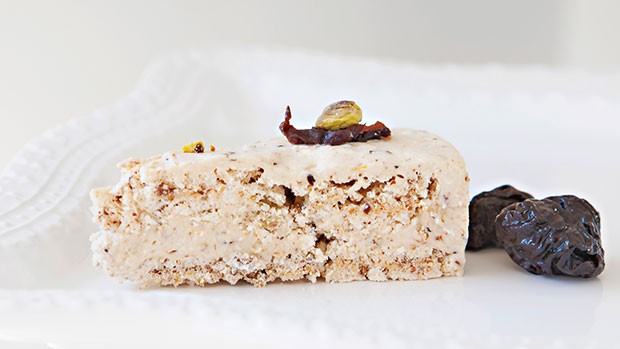 Yield
2 meringue bases, filling for 1 cake / High Yield: 20 meringue bases, filling for 10 cakes
Ingredients
Meringue

Metric
Grams (Original)

Metric
High-Volume

Yield %

      Comments

 

 
 
 
 

Flour, pistachio

75 g

750 g

12.93 %

 

Sugar, granulated¹

75 g

750 g

12.93 %

 

Sugar, granulated²

250 g

2500 g

43.10 %

 

Cornstarch

15 g

150 g

2.59 %

 

Egg, whites

165 g

1650 g

28.45 %

165 g is equal to the white of 5 large eggs

Sugar, powdered

As needed

As needed

 
 

Total

580 g

5800 g

100%

 
Filling

Metric Grams (Original)

Metric
High-
Volume

Yield %

    Comments

 

 
 
 
 

Sugar, granulated

250 g

2500 g

38.76 %

 

Water

75 g

750 g

11.63 %

 

Butter, unsalted

125 g

1250 g

19.38 %

 

Prune, paste

125 g

1250 g

19.38 %

 

Egg, yolks

70 g

700 g

10.85 %

70g is equal to the yolk of 4 large eggs

Pistachios, caramelized

As needed

As needed

 
 

Total

645 g

6450 g

100 %

 
Instructions
Note: Each cake consists of two meringue bases and the corresponding filling.
Preheat an oven to 150⁰C. Butter and line 2 half-sheet pans with parchment, then butter and flour the parchment paper. Combine the pistachio flour, sugar¹ and cornstarch in a small bowl and whisk gently to evenly distribute the ingredients. Set aside.
In the bowl of an electric mixer, beat the egg whites to a stiff peak while slowly adding the sugar². Continue beating for 1 minute. Gently fold the meringue into the dry ingredients using a large spatula. Transfer the meringue batter to a large pastry bag. Place a 25.5 cm x 5 cm ring mold on one of the prepared half-sheet pans. Starting in the middle of the empty mold, pipe the batter in concentric circles, making sure there are no gaps between the circles. Lift the mold and repeat the process on the remaining half-sheet pan. Sprinkle powdered sugar all over the top of both circles of meringue batter and place in the preheated oven for about 35 minutes or until the meringue is fully dry. Remove meringue circles from the oven allow to cool for 10 minutes. If necessary, trim the edges so that the meringue circles just barely fit inside of the mold. Put a cardboard cake circle inside the mold. Set aside.
Combine the water and sugar in a small saucepan and bring to a boil. Continue cooking the syrup just until it arrives at a soft-ball stage (112°C). At the same time as the syrup begins to boil, start beating the egg whites in the bowl of an electric mixer to the soft peak stage. Once the syrup gets to the soft-ball stage, remove from the heat and pour into the meringue while it is beating. Transfer the entire mixing bowl into a refrigerator to cool. Cream the butter in a large mixing bowl. Add the prune paste and firmly whisk ingredients together. If necessary, use a large flat spatula to evenly smash the paste into the butter. Continue beating until creamy. Add the egg yolks and continue beating until the ingredients are fluffy and fully incorporated. Set aside.
Gently fold the cooled mousse into the bowl with the prune paste and mix well until evenly incorporated. To construct the Progress, place a cake circle in the bottom of the ring mold, followed by a meringue base. Cover it with a thick layer of mousse. Place the remaining meringue on top and fill the mold with the remaining mousse. Place in a refrigerator to chill for a minimum of 3 hour. Serve as needed.
Tricks of the trade:
• Blow torch the sides to allow the cake to slip out of the mold
• Sprinkle with caramelized pistachios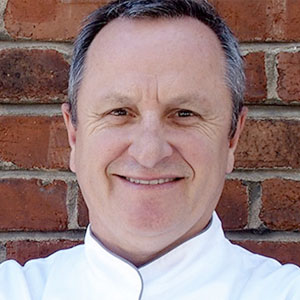 Chef / Owner, Piperade and Bocadillos, Williams-Sonoma Catering, San Francisco, California
Co-owner, Clos Pissara Winery, Catalonia, Spain
Member, Maitre Cuisinier de France
Recipient of Chevalier du Merite Agricole