Quince Paste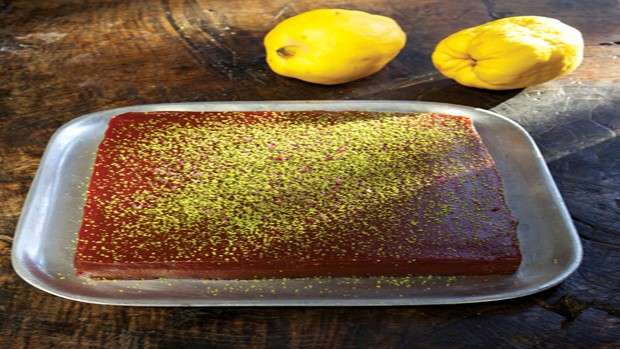 Yield
6 servings
Ingredients
6 pounds quinces (about 8 medium quinces)
6 cups sugar
2 tablespoons fresh lime juice
1 teaspoon cardamom
1 tablespoon rose water
Garnish
1 cup ground pistachios
Instructions
Wash and peel the quinces. Place in a container of water with a splash of vinegar to prevent discoloration. Grate the quinces. Remove the quince seeds from the core and place in a cheesecloth. Tie the cheesecloth in a knot so the seeds are held inside (the seeds have some natural pectin, which will help form the paste).
Transfer the quinces to a pot (preferably copper), cover with 3 cups water, add ½ cup sugar and the wrapped quince seeds, and bring to a boil. Reduce heat, cover, and simmer over low heat for about 2 hours or until tender, stirring occasionally with a wooden spoon.
Squeeze and then remove the wrapped quince seeds from the pot and discard. Use a food processor to puree the quinces. Return to the pot, and add remaining sugar, lime juice, cardamom, and rose water. Cover and simmer over medium-low heat for 4 hours or until you have a thick reddish paste, stirring occasionally with a wooden spoon. Uncover and cook for another hour. Transfer to an oiled (or lined with parchment paper), rimmed quarter-size sheet pan, or mold. Garnish with pistachios. Leave uncovered at room temperature overnight, or longer, until firm.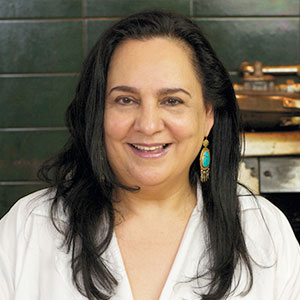 Today, Najmieh cooks, travels, and adapts authentic Persian recipes to tastes and techniques in the West.