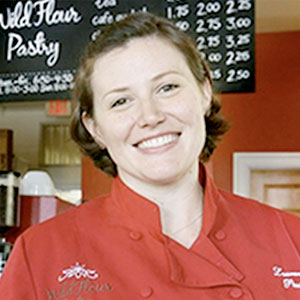 Lauren Mitterer, a two-time James Beard Foundation Award nominee in the pastry chef category, received her degree in Baking & Pastry Arts from the Culinary Institute of America in Hyde Park, New York in 2004. Upon graduating from the CIA, Lauren moved to Charleston to accept a position as Executive Pastry Chef at The Red Drum Gastropub where she quickly became a "rising star" in Charleston's culinary scene.
In 2009, Lauren left Red Drum to pursue her dream of creating deconstructed yet elegant versions of comfort desserts, satisfying that unique craving of sweet and salty. Providing Charleston with her famous double chocolate cookies, sweet & savory scones and the legendary "Sticky Bun Sunday," WildFlour Pastry quickly became a favorite of the Elliotborough Neighborhood locals and those seeking an extraordinary dessert or specialty cake. A graduate of the University of Virginia with a degree in Studio Art, Lauren flexes her artistic muscles by creating cakes designed with minute attention to detail. With a passion for detail in visual design and flavor palates, Lauren shares her love of the unexpected in the comfort of WildFlour Pastry.
Not content to limit herself to the walk-in retail aspect of her business, Lauren has established a catering business that includes wedding cakes and setting up dessert bars at special events. Also, WildFlour provides baked goods to Charleston's finest restaurants, including Red Drum.