China Town Chicago Pistachio Crusted Hoisin Flank Steak with Stir-Fried Broccoli Slaw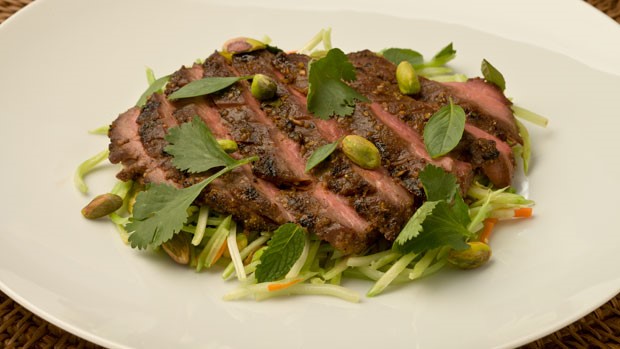 Yield
4 servings
Ingredients
Marinade
¼ cup Hoisin sauce
Zest of 1 orange
1 tablespoon Shredded fresh ginger
2 teaspoons Dark Asian sesame oil
¼ teaspoon Crushed hot red pepper flakes
Flank Steak
1 cup Crushed shelled pistachios
½ cup Fresh herbs, such as cilantro, basil, mint, etc. chopped
1½ pounds Flank steak
Broccoli Slaw
1 tablespoon Vegetable oil
1 tablespoon Fresh ginger, minced
1 Garlic clove, minced
12-ounce package Broccoli slaw
Instructions
For Marinade
In a bowl combine the hoisin sauce, orange zest, fresh shredded ginger, sesame oil and red pepper flakes.
Add steak and marinate for 20 minutes or overnight in the refrigerator.
For Steaks
Oil the grill or grill pan. Preheat grill or grill pan. Remove the steak from the marinade. Mix together crushed pistachios and herbs in a flat pan. Carefully dredge steak in crushed pistachios. Place on grill. Grill 3 minutes per side for medium rare. Let stand 3-5 minutes before carving.
Heat the vegetable oil in a large skillet over high heat. Add the minced ginger and garlic, and stir until they give off their fragrance, about 15 seconds. Add the broccoli slaw and stir-fry until heated through, about 3 minutes.
Holding a sharp knife at a 45 degree angle and cutting across the grain, thinly slice the steak. Heap the vegetables on a platter and top with the sliced steak.