Grilled Salmon & Citrus Pistachio Couscous Salad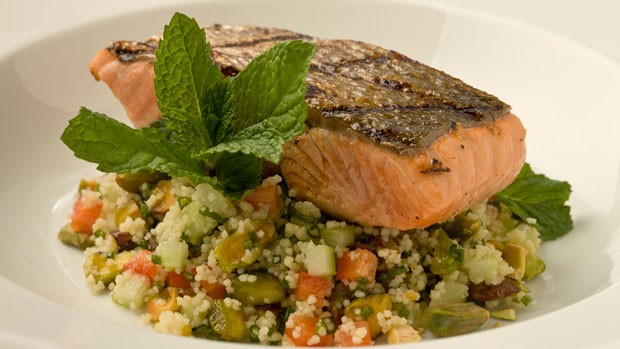 Yield
4 servings
Ingredients
Grilled Salmon:
4, 8-ounce Salmon filets
1 tablespoon Extra virgin olive oil
Sea salt and fresh ground pepper to taste
Citrus Couscous Pistachio Salad:
Juice of 2 oranges
1 cup Reduced-sodium chicken broth
½ teaspoon Sea salt
1 cup Couscous
1 Cucumber, peeled, seeded and diced small
½ cup Chopped red bell pepper
½ cup Shelled pistachios, chopped
Dressing:
1 tablespoon White vinegar
2 tablespoons Extra virgin olive oil
4 Scallions, chopped
1 tablespoon Chopped fresh mint
Freshly ground pepper to taste
Juice of 1 lemon
Instructions
For Couscous:
Cook couscous according to directions on box, using chicken broth in place of water.  Once cooked, add orange juice and salt and mix well.  Fold in cucumber, red bell pepper and pistachios.
For Dressing:
Mix all ingredients for dressing in bowl and whisk.
For Salmon:
Preheat grill or broiler.  Brush salmon with olive oil.  Place on hot grates or in grill pan and grill 5-8 minutes per side, until it looks opaque and has a slightly rosy center when pierced with the tip of a knife.
Serve filets with couscous salad, with extra mint and lemon if desired.