Pan-fried fish with Pistachio & Fruit slices
Yield
4 servings
Ingredients
Marinade
2 tablespoons Chinese rice wine or dry sherry
1/4 teaspoon white pepper
1-1/4 pounds firm white fish fillets, such as sea bass, trout, or red snapper
1/2 teaspoon salt
Coating for Fish
1/2 cup panko bread crumbs
½ cup finely chopped pistachio nuts
Sauce
1/2 cup orange juice
2 tablespoons brown sugar
2 tablespoons rice vinegar
1 teaspoon minced garlic
2 teaspoon chili garlic sauce
1/4 teaspoon salt
1/8 teaspoon white pepper
2 teaspoons cornstarch dissolved in 1 tablespoon water
2 tablespoons cooking oil
1/4 cup sliced starfruit
1/4 cup of sliced pear
¼ cup chopped pistachios
fish eggs (tobiko) for garnish
Instructions
Combine marinade ingredients in a bowl.  Add fish and turn to coat.  Let stand for 10 minutes.
Combine bread crumbs and chopped pistachio in a shallow dish. Coat fish fillets on both sides.
Combine chili sauce ingredients in a small pan and bring to a boil.  Add cornstarch solution and cook, stirring, until sauce boils and thickens.
Place a wide frying pan over medium heat until hot.  Add oil, swirling to coat sides.  Fry fish until golden, 4 to 5 minutes on each side.  Reheat sauce.
Stack fish and fruit slices on a serving plate.  Pour sauce over fish.  Garnish with chopped pistachios and fish eggs.
Adapted from Martin Yan's Feast: The Best of Yan Can Cook, (Bay Books)
Copyright Yan Can Cook Inc., 1998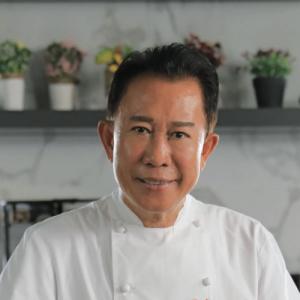 Spanning over four decades, celebrity Chef Martin Yan has traveled around the world, sharing the best of Chinese and American culture, food, and personal enrichment with multiple generations of audiences. His grand vision is shaped by more than 3,500 culinary and travel TV shows, 32 cookbooks, and several restaurants in North America and Asia, which include M.Y. China, a highly rated culinary hot spot in San Francisco.