Crispy Pistachio Croquetas
Ingredients
1 potato, peeled and cubed
2 tbsp  olive oil
1 small onion, finely chopped
3 garlic cloves, finely minced
1 small green pepper, small diced
1 small red bell pepper, small diced
½ cup   pistachios, coarsely chopped
½ cup   tomato sauce
Salt and pepper to taste
¼ tsp    sugar
Oil for frying
Chopped parsley for garnish
Coating
2 eggs, lightly beaten
½  cup  breadcrumbs
½ cup   finely chopped pistachios
Instructions
Place the potato in a saucepan, fill with cold water to barely cover. Season with salt and bring to a simmer over high heat. 
Meanwhile, heat a fry pan over medium and add 2 tablespoons olive oil. Add onion, garlic, green and red pepper, and pistachios. Cook until onion is soft and translucent, about 4 – 5 minutes. Add tomato sauce, season with salt, pepper and sugar. Simmer for 5 – 7 minutes until tomato sauce has thickened.
Combine breadcrumbs and chopped pistachios in a shallow bowl. Set aside.
When the potatoes are cooked through, drain off water. Mash until there are no lumps. Add cooked vegetables to potato and mix until well combined. When mixture is cool enough to handle, form spoonfuls of potato mixture into a croquette about the size of a large egg. Coat each croquette in egg wash, then roll it in the breadcrumb pistachio mixture.
Heat a fry pan over medium heat. Add enough oil for shallow frying, about ½  inch depth. Carefully add croquettes into the hot oil. Fry until golden brown, about 2 – 3 minutes on each side. Remove and drain on paper towels. Serve with a garnish of chopped parsley.
Copyright by Yan Can Cook, Inc. 2023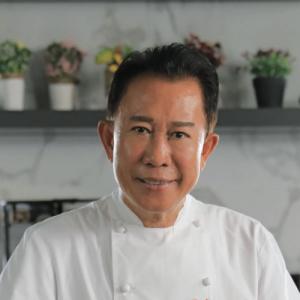 Spanning over four decades, celebrity Chef Martin Yan has traveled around the world, sharing the best of Chinese and American culture, food, and personal enrichment with multiple generations of audiences. His grand vision is shaped by more than 3,500 culinary and travel TV shows, 32 cookbooks, and several restaurants in North America and Asia, which include M.Y. China, a highly rated culinary hot spot in San Francisco.