Celebrating National Nutrition Month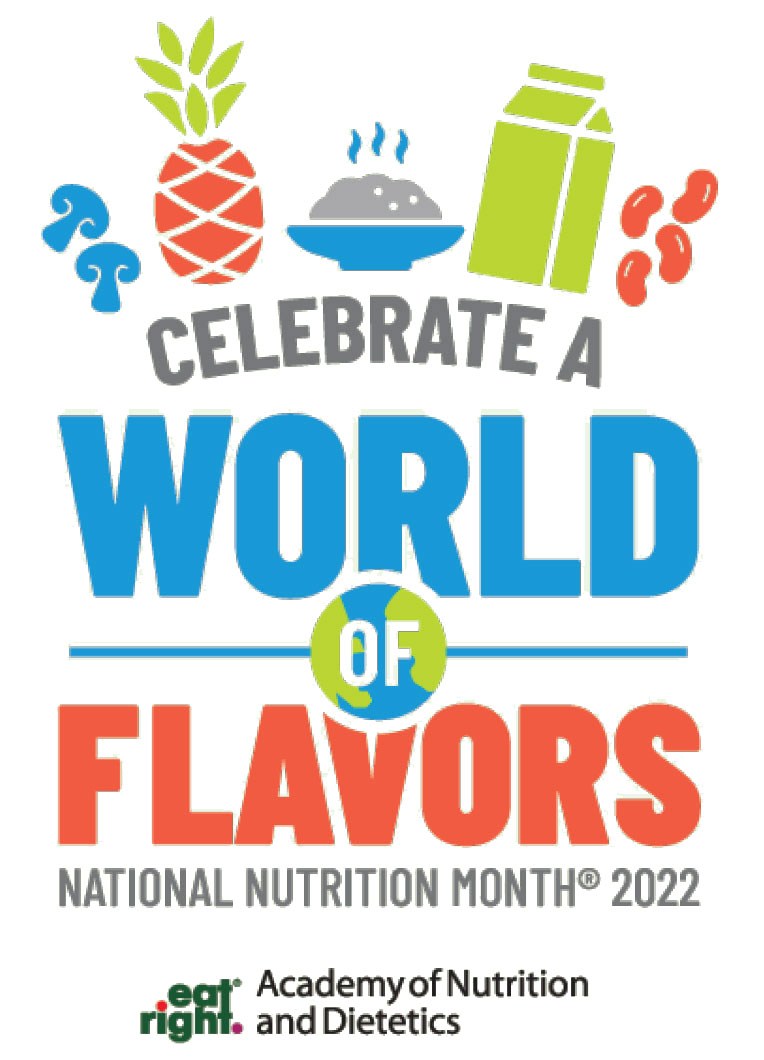 Every March, the Academy of Nutrition and Dietetics embraces a theme to learn more about building healthy habits. This year's theme celebrates flavors from around the world, Celebrate a World of Flavors, by embracing a diversity of cultures and cuisines. By celebrating flavors around the world, the Academy highlights the importance that all cultures have healthy foods that can be enjoyed all year long. 
As health professionals, it's important for us to encourage people to build sustainable habits that work for their lifestyle. One of the keys to building successful habits is to create nutritious meals and snacks that are accessible and packed with flavor. It is also an opportunity to incorporate traditional, cultural foods, which helps to nourish our bodies and honor the diversity in our communities.
Here are some simple tips from the Academy of Nutrition and Dietetics to get you or your clients started.
Eat a variety of nutritious foods - Include your favorite cultural foods from all food groups, which includes a variety of grains, protein like pistachios, fruits and veggies.
Find a dietitian to meet your health goals - Seek nutrition experts that can help incorporate your traditions and values to set you up for success.
Plan your meals and snacks - Make a plan for the week to help keep you on track. Pistachios serve as a source of protein, beneficial fats, fiber and contain a plethora of nutrients and health benefits your body needs every day.
Create tasty foods at home - Try new flavors and foods from around the world, expand your palate, and whenever possible, enjoy meals with friends and family. Tap into our database of recipes, with delicious recipes from top chefs around the world!
Join us as we Celebrate a World of Flavors! Here are some of our favorite flavor-packed recipes from all around the world. Find mouthwatering recipes from America, Japan, Middle East to Southeast Asia and more.
Make a small meal or snack with Martin Yan's crispy, yet refreshing lettuce cup recipe.
Try Najmieh Batmanglij's Persian dish, rice with sour cherries, both savory and sweet to pair with any meal.
For something sweet, try these delicious dark chocolate truffles to finish off any meal.
Celebrate a World of Flavors with us! Explore our recipe database and share your creations with us on social at @AmericanPistachios. Happy National Nutrition Month!