Merrill Moses - 3 X Olympian Pushing 40
Training harder, eating smarter to compete in toughest endurance sport.
Having played a lot of different sports growing up, without a doubt, water polo is one of the most physically demanding. Going into these past Olympic Games in Rio – my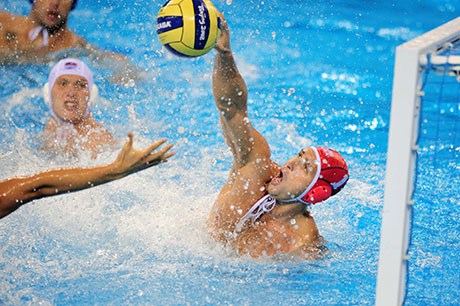 third time representing the United States – we started training back in January, six days a week for six to eight hours a day. As one of four seasoned players and 38 years- old (I turned 39 in Rio), I had to focus even harder on being fit and healthy, and stick to my motto: don't age gracefully, age ferociously.
Any professional athlete will tell you, you get out of your body what you put into your body. Proper nutrition is just as important, if not more so, as training. Food not only serves as fuel but also can aid in recovery, which is essential in my game. Thrashing around in the water non-stop for one hour is the ultimate challenge, and that's where pistachios come into play. They're packed with protein, potassium and other nutrients that help replenish the body after intense exercise and promote muscle recovery.
The Games in Rio were my last. Now that I'm retired as an Olympic athlete and moving forward as a water polo coach at Pepperdine University, I'm not training as intensely, but I try to make sure that I eat and drink as healthy as possible every day. I like to start off with a green drink that I make that has a lot of spinach in it with bananas and pineapples, and then two scoops of clean protein. For lunch I usually like to have a chicken salad or healthy wrap. For dinner, I am always trying to get a healthy protein with lots of veggies and a small portion of carbs. And for snacks? Still sticking with pistachios.
I also make sure that I exercise a minimum of thirty minutes a day, seven days a week. It isn't always easy to make time for this, but it is a must if you want to live a healthy lifestyle as you get older. And adhering to this game plan makes sure I have the energy to keep up with my lovely wife, Laura, and our young kids, Adrianna and Makenna. They're my daily reminders to instil another vital element: fun!