Monte Morris
Undoing an Unhealthy Lifestyle
"At 35 years old, I was 235 lbs. and well overweight. According to the BMI, I was obese. I was low on energy, lacked ambition, physically inactive, stressed at work and had an awful diet. I had also just been blessed with a new baby girl. I was drinking lots of beer, eating plenty of very unnatural foods and felt horrible. The worst part was, I didn't even really see or understand the problem!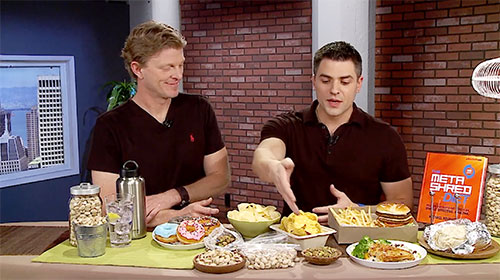 After living with a general unhealthy and unhappy feeling, I went to the doctor for a general health checkup. My doctor looked me in the eye and told me I had stage 2 hypertension and was horribly overweight and needed to lose weight. He went on to tell me that Stage 2 hypertension was very serious and not too far from a heart attack … at 35 years old!!
That very day, I went home and decided to make some big changes in my life. After some counseling and research, I decided I needed to get on a regular exercise regimen right away, so I began to jog in the afternoons after work. I did this regularly and found quickly that it was a wonderful stress reliever and made me feel great! I soon got to the point where I could run for a few miles without stopping, and I found myself looking forward to evening runs. I also noticed that I had lost a couple of pounds after a couple of weeks. Things were improving, but I knew I needed more.
I read a lot about nutrition and asked lots of questions, and I noticed that there were many fad diets that were strangely strict, unnatural as far as nutrition is concerned, and anecdotal evidence showed them to be ineffective. I have always felt connected with nature and the idea that made the most sense to me was to try and eat as naturally as possible, regardless of fat or carbohydrate content that is so largely lambasted in the media. I quit drinking beer immediately and in doing so, I found myself craving fruit. I began eating lots of apples and berries and found that they were delicious and convenient to take with me while on the go. I also found that nuts were wildly delicious, convenient, and very filling. I quickly developed a diet that involved mostly snacking on nuts and fruit and began to experiment with nut mixture trail mix blends. These blends included pistachios, walnuts, peanuts, dried fruits, coconut and dark chocolate. I found these snacks to be so delicious that I was snacking all the time and when mealtimes came, I was not that hungry. That freed me from the ravenous cravings I once had and kept me from overeating at mealtimes. After about a month of eating like this, I began losing weight at an incredible rate and I was feeling great!!
My health was increasing rapidly, my energy and ambition were inclining, my doctor was impressed, and I was even thinking more clearly!
I am now 187 lbs (which is 10 pounds lighter than I was as a senior in high school) and my blood pressure is normal. I am right on target with the BMI and my doctor is impressed. My hobbies are outdoor sports and running. I still eat the same diet filled with nuts and fruit (among other things), and my life is no longer dictated by uncontrollable cravings. I have not once looked back, and I look forward to a longer, much better quality life going forward and now can't imagine eating any other way! Most importantly, I now have the energy and stamina to keep up with my sweet little three-year-old girl!"