Gluten Free Pistachio Cranberry Haystacks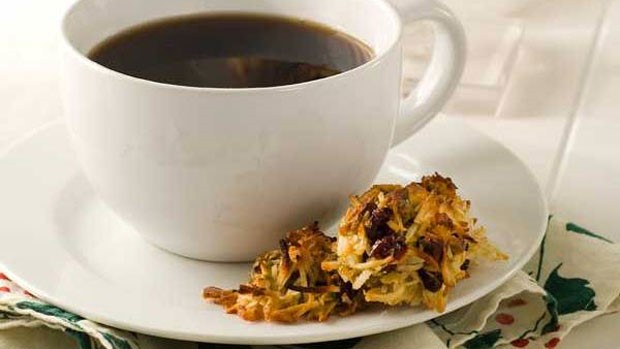 Yield
2 – 3 dozen depending on size
Ingredients
3 Large egg whites
¼ teaspoon Kosher or fine sea salt
¼ cup Agave nectar
2 cups Shredded coconut (sweetened or unsweetened)
½ cup Roasted, unsalted pistachios, roughly chopped
½ cup Dried cranberries
Instructions
Preheat oven to 350° F. Line 2 baking sheets with silicon baking mats or parchment paper.
Whisk egg whites and salt by hand for about 30 seconds or until frothy. Add the agave and whisk to combine. Add the coconut, pistachios and cranberries and mix to combine.
Using wet fingers or a small ice cream scoop, mound 1 – 1½ tablespoons of the mixture onto the prepared baking sheets, spacing about 1 inch apart.
Bake for 12 – 16 minutes or until the cookies are deeply golden brown and have firmed up slightly. They will firm up more as they cool.
Let cool on the baking pans for 5 minutes and then transfer to a wire rack to finish cooling.
Cookies can be stored in an airtight container for up to 3 days at room temperature.
 
Nutritional Facts (Amount per Serving):
Calories 50, Total Fat 2.5g, Saturated Fat 1.5g, Monounsaturated Fat .5g, Polyunsaturated Fat 0g, Cholesterol 0mg, Sodium 30mg, Potassium 38mg, Magnesium 3mg, Vitamin B6 .03g, Carbohydrate 6g, Dietary Fiber 0g, Protein 1g