Lechon with Pistachio Mole and Pickled Vegetables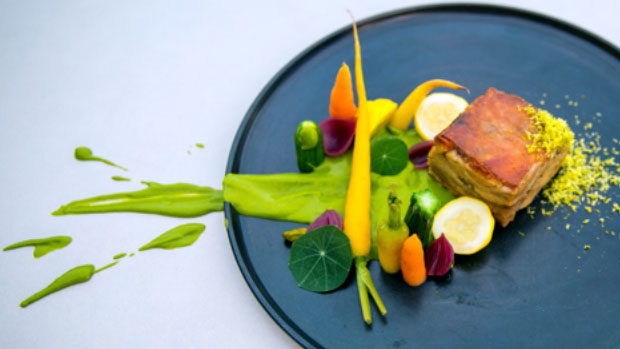 Ingredients
Pistachio Mole
½ pound Tomatillo, halved
¼ cup Onion, chopped
2 tablespoons Garlic, chopped   
¼ pound Poblano pepper, chopped
2-1/3 cups Pistachios, lightly toasted
½ teaspoon Cumin seeds, lightly toasted
¼ teaspoon Coriander seeds, lightly toasted1 teaspoon Green peppercorns, lightly toasted
Oil, as needed     
2-1/3 cups Vegetable broth 
Pineapple Puree                                   
1-½ pound Pineapple, diced 
2/3 cup Butter, diced    
Suckling pig Marinade                           
8 tablespoons Ancho chili
¾ teaspoon Black peppercorn   
½ teaspoon Cumin
¼ teaspoon Oregano
3 tablespoons Garlic
Water, as needed
1/3 cup Salt
Suckling Pig 
6- ½ pounds pork, shoulder and leg combined
¼ pound Pork lard
4-1/3 cups Vegetable broth
 Pickled Baby Vegetables                                  
2/3 cup Champagne vinegar 
2-1/3 cup Water  
¼ cup Sugar  
¼ teaspoon Coriander seeds   
½ teaspoon Bay leaves 
4 ounces Carrots
4 ounces Squash            
4 ounces Pearl onion
Garnish
Shaved pistachios, as needed
Instructions
For the Pistachio Mole
Roast tomatillo, onion, garlic, and pepper in a sauce pot with oil. Add pistachios, seeds and peppercorns to the sauce pot and cook for 12 more minutes. Add vegetable broth and reduce to half. Blend and strain.
For the Pineapple Puree
Roast pineapple on low heat for 30 minutes. Blend with butter, adding little by little.
For the Suckling Pig Marinade
Toast chili, peppercorn, cumin, oregano and garlic in a 350 degree F. oven for 6 minutes. Blend with water and salt. Marinate the pig and let it rest for 8 hours.                            
For the Suckling Pig 
Put the pork, lard and broth together and wrap in heavy duty aluminum foil. Braise at 200 degrees F for 12 hours. Let the meat cool. When it's cold, remove all bones and compress.
For the Pickled Baby Vegetables
Boil the vinegar, water, sugar, coriander seeds and bay leaves; add the vegetables and let stand for 15 minutes, off the heat.                          
To Plate
Portion the suckling pig in squares. Sear the skin side until crispy. Keep warm in oven. Set Pistachio Mole on the plate and arrange the pickled vegetables. Add shaved pistachio